Gaming Laptop Razer Blade 14 – it boasts sufficient capability that allows it to run any modern title. Along with that, the product reminds an ultrabook looking at its dimensions. The brand has tried its best to release this tiny beast with specs so impressive.
Upsides:
Sleek design
Light and portable
Reliable build
Downsides:
Overpriced
Performance doesn't match the cost
Poor upgradability
Being only 3.7 lbs combined with 0.6-inch thickness, it fits a lot to show. Compared with its smaller sibling, its screen is more suitable for gaming and watching movies. All that comes in an easy-to-carry around chassis one can take anywhere.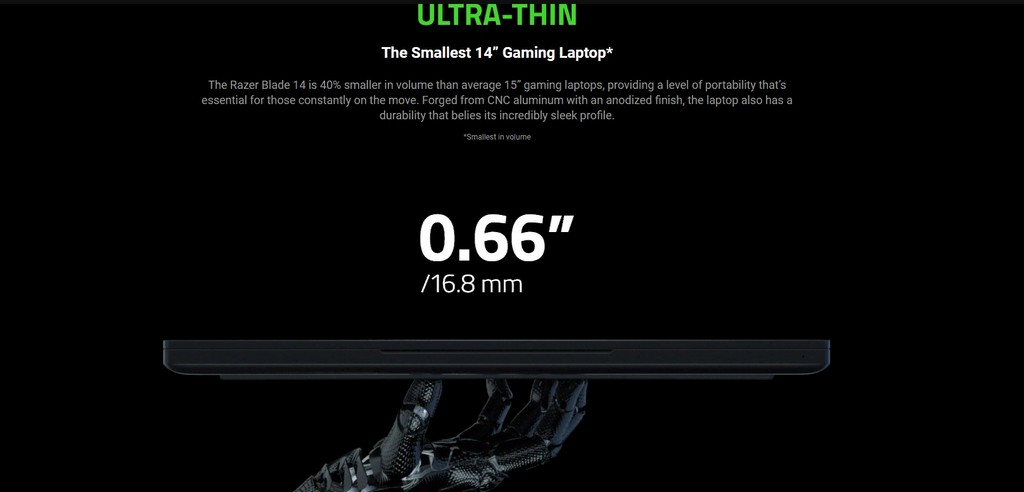 Sure, it's not the most powerful option on the market. There are items like ROG Zephyrus G15 but let's not forget about the size. The device created by Razer is revolutionary in terms of portable gaming.
As it usually happens with such compact rigs, they're more expensive. The reviewed guest starts at $2,200. Its final price tag can rich $3,000 or even more. This difference is explainable and depends on the build. With the RTX 3080 unit installed, its maximum cost is beyond some people's budget limit.
One can compare this gadget with the lately released Razer Blade 15 version. However, it's harder to purchase and is appreciably bigger. Though, it features a faster refresh rate together with enviable performance. At the same time, buying the 13-inch Razer Blade Stealth only makes sense for work-related issues.
A prospective customer shouldn't forget that Razer isn't that famous for laptop manufacturing. This model can even be called a groundbreaking one. One doesn't see many ultrabook-like devices that are so capable.
Prices and Configurations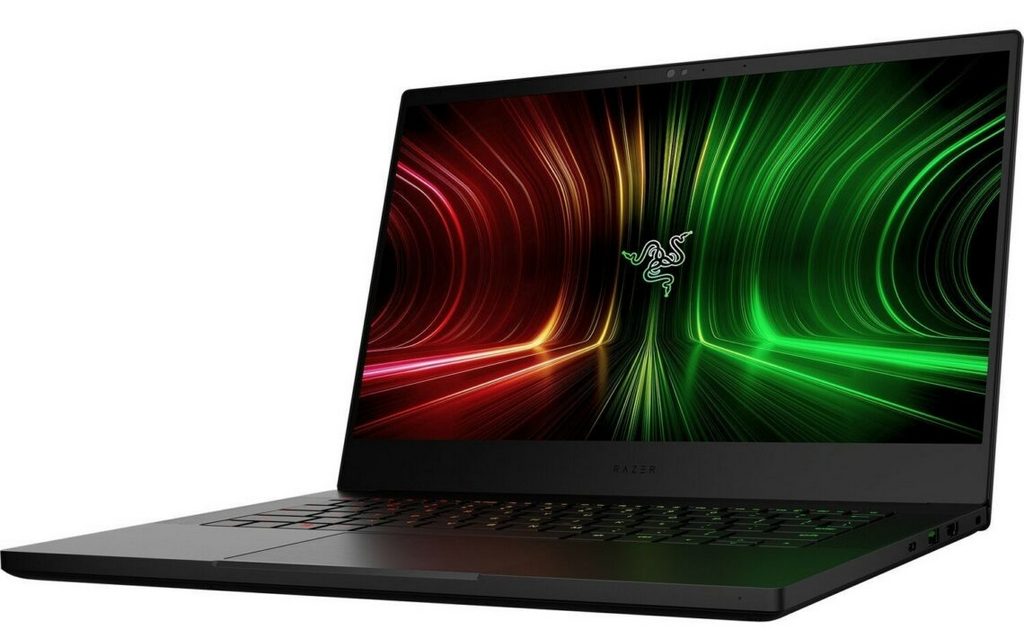 Let's make it clear from the beginning – there are various build options. First, they differ in terms of cost. Then, there is a noticeable chasm in specifications between several models compared. The presented below configuration is the maximum level of performance one can have.
Reviewed laptop Razer Blade 14:
| | |
| --- | --- |
| CPU: | AMD Ryzen 9 5900HX |
| RAM: | 16 GB |
| GPU: | NVIDIA GeForce RTX 3080 |
| Display: | 14-inch 1440 IPS, 165Hz |
| Connectivity: | Wi-Fi 6E, Bluetooth 5.2 |
| Memory Size: | 1TB SSD |
| Weight: | 3.7 lbs |
The device cannot really boast price-capability value, as its unique features lie in another thing. Sure, one can't change the built-in processor or extend RAM. Though, there's a 1080p screen with a slower refresh rate available at an affordable price.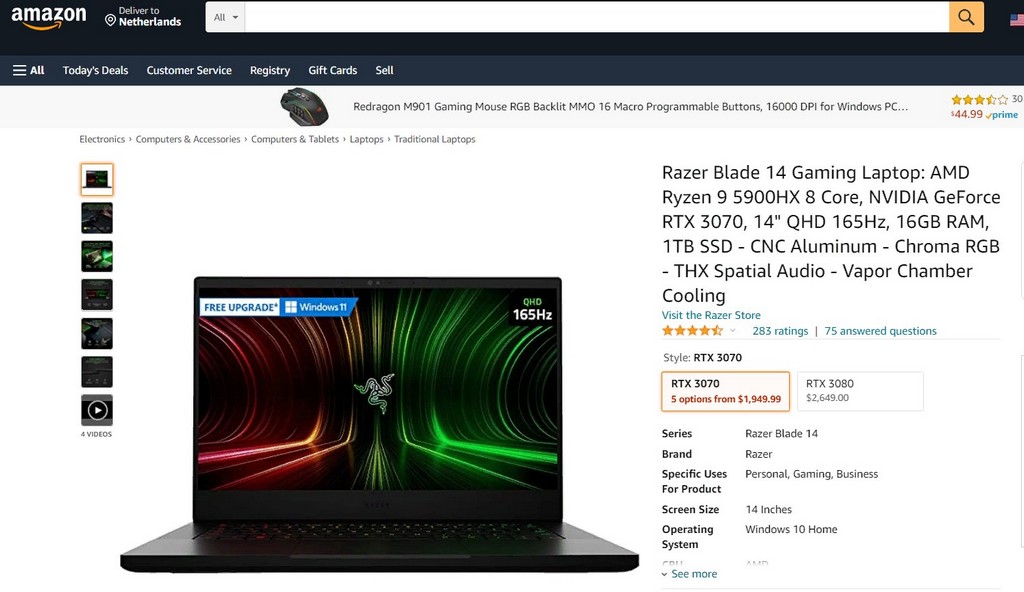 Another way to save money if purchasing this rig is to choose the RTX 3070. Combined with a worse monitor quality and only a 144Hz refresh rate, it'll cost $1626. That's a sufficient difference if compared with the $2,649 asked for the maximum specs.
Despite an unfriendly cost, this rig is totally worth it. Purchasing a complete build guarantees future-proof potential. On top of that, one won't find an alternative that thin fitting the RTX 3080.
Sure, it's still overpriced and a user has to pay for the brand as well. Nonetheless, this product is unique in its category. There aren't many laptops featuring both exquisite performance and portability. It will definitely show stable FPS when running the most demanding titles at high settings.
What builds are worth the attention
When seeing a spread in specs, pops up a reasonable question – what build is better. One should also look at Blade 14 price tags available. In some markets, they can easily reach $3000 for top specifications.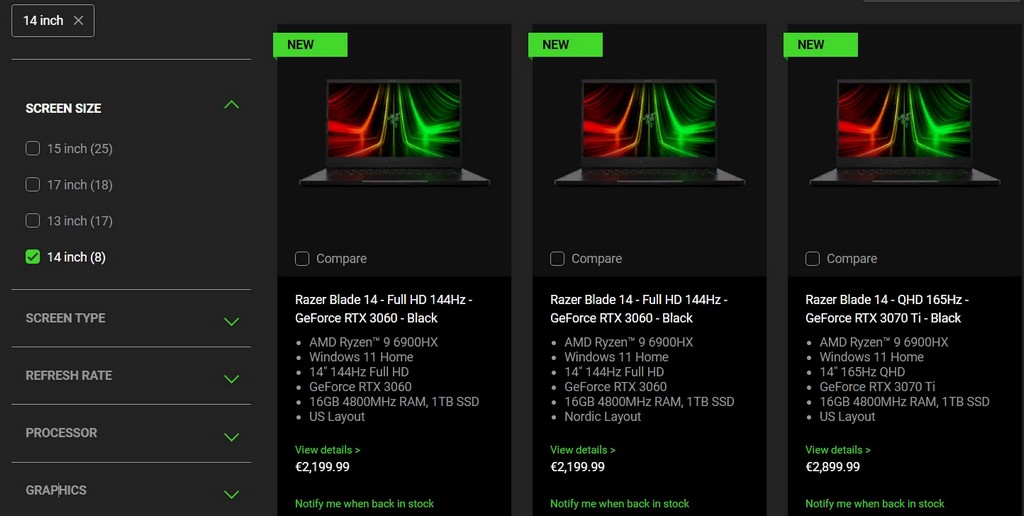 Unfortunately, Razer Blade 14 isn't one that's worth investing all the money available. The reason for that is the product size that doesn't fully unlock the Graphics Card RTX 3080. This GPU hasn't been created for laptops this small. It requires more space to feel its power without getting overheated in 30 minutes.
It's highly advisable to purchase a device with middle settings. It won't only save a penny yet will be sufficiently performant in all tasks. This can be anything from working at home or playing modern titles. A prospective customer won't experience any specs-related issues for many years. Even an average Blade 14 model seems quite future-proof in terms of components installed.
A tiny beast like that is appreciated for its dimension first. Then, it can surprise with its capability and other features. Buying it for 1080p gaming available on the go is more than enough. There's no rig similar to that anyway, so it's worth the money.
Design Solutions and Overall Look
All these powerful specs are jammed into a sleek chassis. No one can complain about the Blade 14 first impression it makes. It features an all-black aluminum case that's a delight to touch. On the back, there's the Razer logo that irradiates green color.
Despite being that small, the rig boasts loud enough speakers located on both sides. The power button is in the right corner above the keyboard. Coming down to the latter aspect, its size leaves much to be desired. Some of the keys have become more diminutive one can imagine. For instance, the "~" and "\" are really narrow.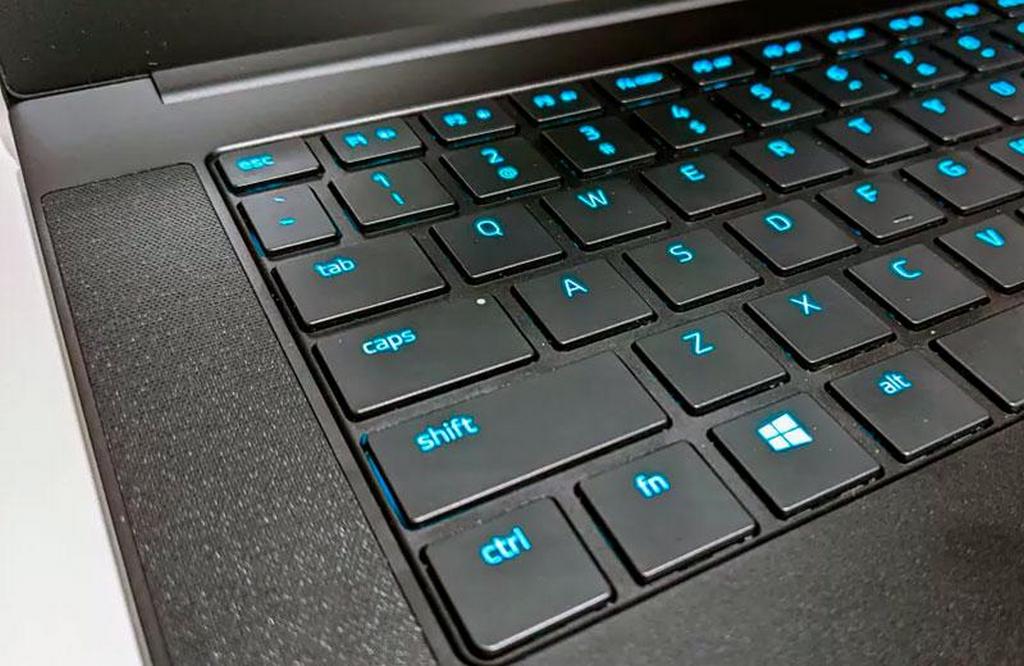 It's worth mentioning, these are not the most frequently used buttons. Though, a prospective buyer should be prepared for that. This was an enforced decision in order to reduce the final product size.
The chassis itself is only 0.6 inches thick and weighs 3.7 lbs. These numbers are still far from what an ultrabook can offer. However, it's easy to go around and travel with a gadget like this.
At the same time, its power brick is quite bulky and heavy. This is what reduces Razer Blade 14 on-the-go potential. One can still charge the item using USB-C but it won't be enough for gaming. This is highly advisable to use a standard supply unit. It restores the battery life in an hour or so to continue a playing session.

Featuring a diminutive size, the product is jammed with various ports. This tiny beast has two USB-C 3.2 Gen ports on each side. There are also USB-A and HDMI ports. One can use a Kensington Lock in order to protect its precious device from stealing. In the end, there's a charging port along with a 3.5 mm audio jack.
Performance Quality – the Razer Blade 14 does a great job
Being sufficiently smaller than any other gaming laptop, the Razer Blade 14 does a great job. It's been tested in special programs imitating the maximum overload that a machine can stand. Then, various most popular titles were run to see the FPS rate.
Here are the results:
Fire Strike: 22697 points / Time Spy: 9407 points / Cinebench R23 (Multicore): 11690 points;
Total War: Three Kingdoms (1080p, ultra settings): ~ 70 FPS | (1080p, low settings): ~ 170 FPS;
Metro Exodus (1080p, ultra settings): ~ 65 FPS | (1080p, low settings): ~ 130 FPS.
As one can see, the device shows decent capability for its dimensions. Speaking of the weak sides, it doesn't work well enough with the RTX 3080. This GPU is just too much for a machine of this size. It doesn't fit in it compromising a good part of the performance. Along with that, the gadget runs quite hot when playing demanding titles.
Comparing this model with, for example, the Alienware M17 R4, the second option prevails. It's surely larger and this is what gives more space to unlock the performance potential. Even though both rigs are equipped with the RTX 3080, the results are different. Therefore, it's highly advisable to purchase a lower-performance build.
The Razer Blade 14 does great if the RTX 3060-3070 is installed.
Using a setup like this doesn't only make more sense but also saves a penny. On top of that, it will be more than enough for content creators. It's basically what they need when moving around the world – a powerful and portable laptop. Besides, it runs all games and will do so in the nearest future for sure.
Camera and Microphone
As it usually happens with other laptops including gaming ones, the camera is mediocre. The same goes for the built-in mic that's only suitable for short work calls. Both features are present in Razer Blade 14 yet leave much to be desired.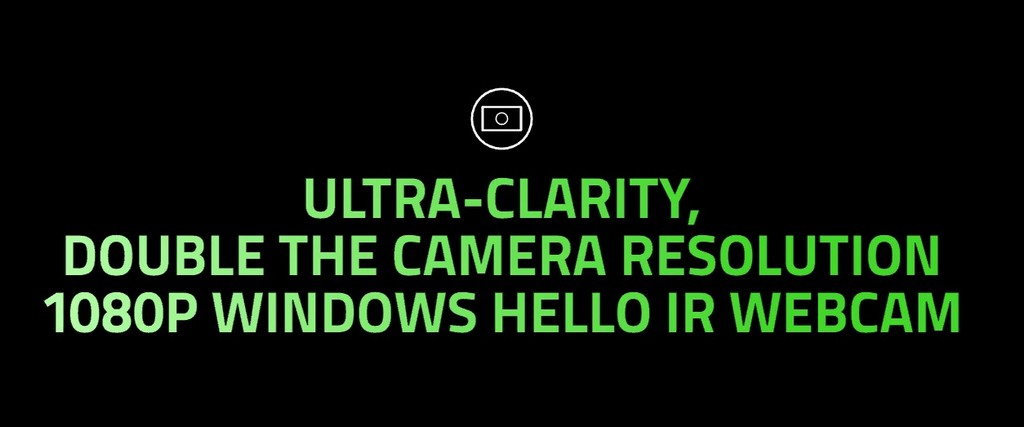 Coming down to the webcam, it's a standard 720p sensor coming together with Windows Hello. The image quality is usually blurry, which makes it a bad choice for streaming. On top of that, many users complain about the video lagging behind the voice.
Looking at the mic in detail, it seems fine for daily usage. However, the sound it produces isn't clear enough. It also catches the background noise quite easily. Any player will rather choose a gaming headset designed for their needs.
For built-in options, both camera and mic show serviceable results. They're usable yet a buyer expects more for the stated price. After all, these two features have never been the main advantages of a gaming machine.
Keyboard and Touchpad
All Razer fans adore this gaming brand for having an unusual approach to the mentioned features. For instance, the Razer Blade 14 boasts an anti-ghosting keyboard. It takes around a split second to send a signal after pressing a button.
On top of that, it has famous Chroma RGB lighting. Every person who's ever used this in action understands why it's worth the money spent. With over 16.8 million colors available, one can also set up various effects while playing. Chroma-integrated titles will have special settings making the keyboard radiate differently.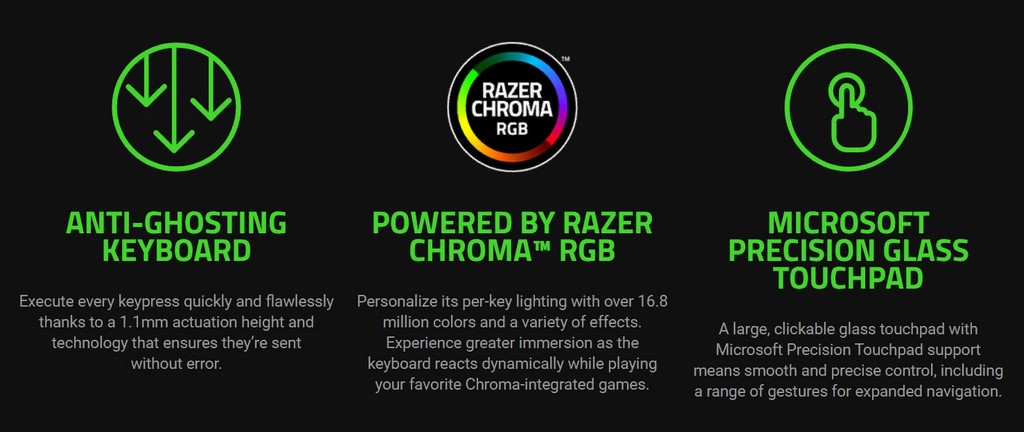 Only a few can tell that it feels comfortable playing when using a touchpad. The company has done everything to change this tendency. This model features a large and clickable glass touchpad. It also supports the Microsoft Precision Touchpad system. All these ensure smooth and accurate control of what's happening on the screen.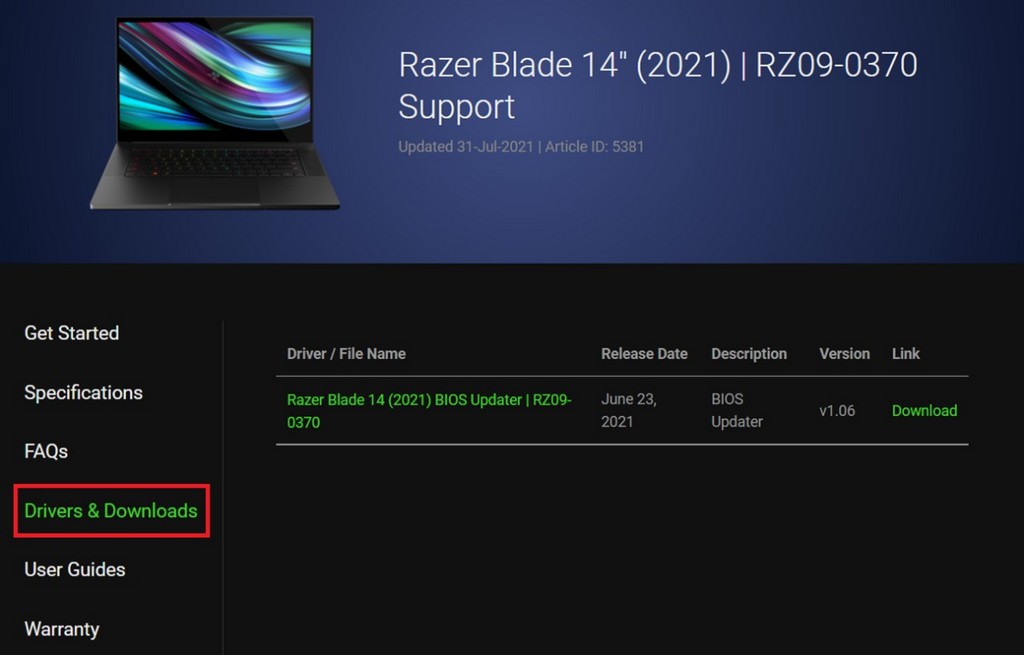 Installing Razer software allows a user to dig deeper into settings. It's necessary to have a full selection of options available. This requires no payment and is easy to download at the brand's official website.
Laptop Razer Blade 14 – Battery Life
Despite having a massive power brick, it's not always necessary to bring it around. This model can survive more than 7 hours and 30 minutes with no charger attached. Using PCMark 10 battery test has proven these numbers. Unfortunately, it has only lasted for 6 hours and 30 minutes during a playback test.
It's not the worst result yet is far from what one can expect. It's better to have a supply unit if preparing for a long session. However, a user can forget about it when working or simply surfing the Web. One can't say it shows poor battery life for a laptop of this size.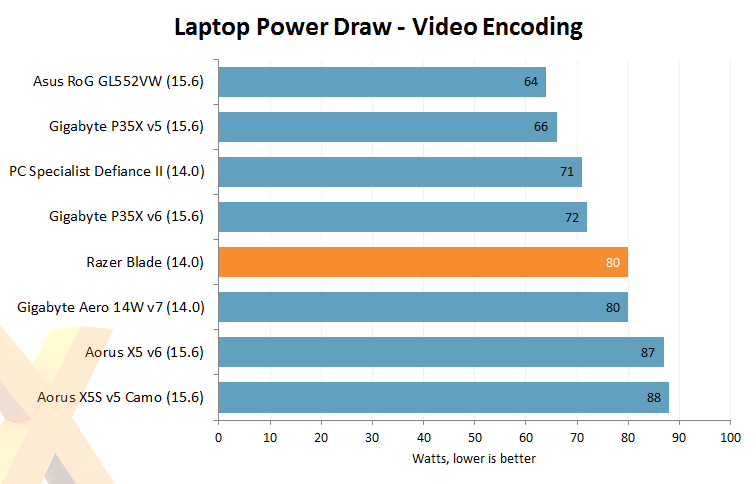 Additionally, don't forget about the charging possibility through USB-C. It may save up some time when working. Of course, one will have to plug in a real power brick for playing. If a person doesn't do that, the battery will quickly die out.
Compared to what Razer's rivals present, the Blade 14 shows great results. It manages to combine portability and its battery stays up long enough. Besides, its charging unit doesn't ruin its mobility, as it weighs within normal limits. A user can always take it together with a machine and go out anywhere. After all, there's no other model alike that boasts supreme performance and decent battery life.
Summarizing Strong and Weak Sides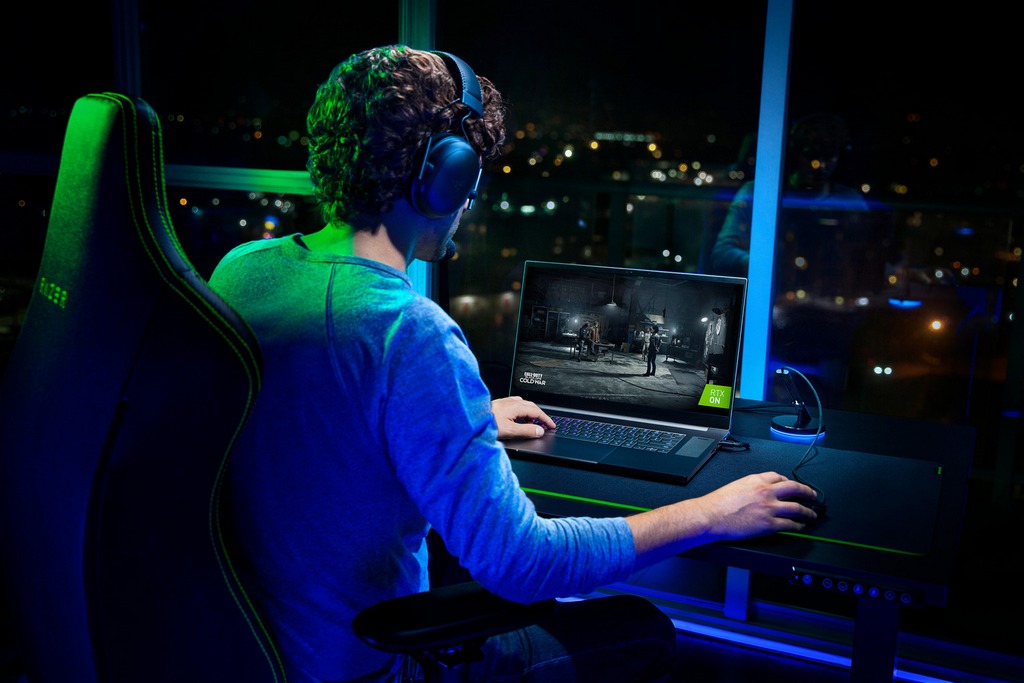 Before saying anything in particular about Razer Blade 14, let's clarify a few moments. This laptop definitely deserves gamers' attention. Spectacular specs combined together with a unique design make it a true masterpiece. Here are the more detailed points about it.
BUY IT IN CASE OF
1. If one needs a lightweight and portable device. Being only 3.7 lbs and 0.6 inches thick, it's a finding indeed. There's no other rig that offers performance like this squeezed in a slim chassis.
2. If one needs a reliable product. The Razer Company is famous for its pricy yet sturdy laptops. All of them are made of aluminum being quite sturdy. On top of that, the Razer Blade 14 will serve for years for the cost asked.
3. If one's looking for a luxurious item. Like other machines from this range, this gadget looks different from what other manufacturers offer. It combines a sleek design along with attractive green lighting. The Razer Blade 14 doesn't scream about being made for gamers yet remains to be so.
DO NOT BUY IT IN CASE OF
1. If one's budget is tight. This laptop is far from being cheap starting at $2,200 and more. Its cost is explainable and totally clear. Though, not everyone can actually afford it. Besides, there's still a slight overpay for the brand itself that many people don't like.
2. If one's hunting for performance only. It's a powerful beast but a user can get a better one for this money. Despite being equipped with the RTX 3080, it won't unlock its maximum potential. This happens due to the Blade 14 diminutive size and the fact it's too slim. Buying a device with this GPU will only lead to running it hot when playing.
Overall Verdict score of 8.9
Razer has done a great job creating a laptop this portable. One can easily take it anywhere and enjoy their favorite titles. It's also a great option for people working on the go. The Razer Blade 14 is extremely portable and survives more than enough with no charger attached.
It doesn't have too many noticeable downsides except for the price tag. Besides, a prospective buyer can find a more powerful option. In this case, they should be ready to sacrifice portability and lightness.
This laptop is definitely one of those that doesn't have an obvious alternative. Boasting a perfect design, future-proof specs, and eye-catching lighting, it's worth every penny asked.
Video-review on Razer Blade 14
The manufacturer ensures its products have decent cooling systems installed. It strictly depends on what game is running and how long a player does this. To keep them at optimal temperature, stick to shorter gaming sessions.
Featuring impressive performance, this is what it's been created for. It can run many applications at once with no problem or lagging. This is possible thanks to its powerful CPU and overall capability.
If one is looking for a performant and portable laptop, it surely is. Boasting future-proof design and overwhelming specs, it's worth every penny spent. On top of that, it's equally good for both gaming and working.
It still has a decent potential even in terms of gaming. This device will remain so for several years or more. It also depends on what build a prospective buyer chooses. The top edition is preferable to forget about upgrades in the nearest future.
If playing at middle settings, the temperature usually stays at 176°F. There might be spikes up to 194°F if the processor overheats a bit. All the best gaming laptops struggle with this problem and the Blade 14 isn't an exception. It doesn't spoil the immersion process yet a user should be careful.
The Review
Gaming Laptop Razer Blade 14
PROS
Sleek design
Light and portable
Reliable build
CONS
Overpriced
Performance doesn't match the cost
Poor upgradability
Review Breakdown
CPU: AMD Ryzen 9 5900HX

0

RAM: 16 GB

0

GPU: NVIDIA GeForce RTX 3080

0

Display: 14-inch 1440 IPS, 165Hz

0

Connectivity: Wi-Fi 6E, Bluetooth 5.2

0

Memory Size: 1TB SSD

0

Weight: 3.7 lbs

0
Gaming Laptop Razer Blade 14
Gaming Laptop Razer Blade 14 Review - this is a perfect example of portability and performance balance. The device Razer is revolutionary in terms of portable PC gaming
Product SKU: RB14
Product Brand: Razer
Product Currency: $
Product Price: 1626
Price Valid Until: 2023-04-03
Product In-Stock: InStock