MSI Bravo 15 has recently revised its lineup of AMD-based gaming laptops. Like the Alpha series, the MSI Bravo 15 AMD Ryzen 7 4800H CPU takes advantage of the 7 nm process. The model is available in two major variations. The lower-specced configuration comes with an AMD Ryzen 5 4600H CPU.
At 3 GHz out of the box, it's capable of reaching up to 4 GHz. Priced at $850 at Amazon, it has 8 GB of 4th gen RAM under the hood. Its slightly more expensive counterpart powered by Ryzen 7 5800H's 8 cores goes for $1,099. The factory spec of 2.9 GHz can be overclocked up to 4.2 GHz. It has 16 GB of RAM, comprised of two 8 GB 2666 sticks. The high-refresh rate displays run on the RX 5300M and the RX 5500M gaming graphics cards.
It's worth pointing out that the 15" form factor is currently in high demand. The competition is rather stiff in this segment of the market. Asus TUF FX505DT, HP Omen 15, and Dell G5 5590 reside in the premium tier.
Meanwhile, the Acer Nitro 5 AN515-44 is a hard-to-beat budget choice. However, said options sport Nvidia's GTX 1650 and 1650 Ti. Can Team Red's alternatives keep up in gaming and productivity? Let's take a deeper dive and find out.
MSI Bravo 15 – Design and Ergonomics
| | | |
| --- | --- | --- |
| Gaming Laptops | Height | Weight |
| Asus TUF FX505DD: | 26.8 mm | 2.20 kg |
| MSI Bravo 15: | 21.7 mm | 1.96 kg |
| MSI GP65 10 SDK: | 27.5 mm | 2.33 kg |
| Acer Nitro 5 AN515-44: | 23.9 mm | 2.17 kg |
For a primarily gaming-oriented machine, the Bravo 15 looks surprisingly understated. The dark-gray chassis made of metal and plastic has a sleek brushed aluminum texture. There are no crazy color accents of fancy RGP stripes on the outside. The only things that stand out are the arched shape and the thunderbird logo.
Opening the lid reveals a pretty backlit low-profile gaming keyboard. The body is rather thin, measuring 359 x 254 x 21.7 mm. The weight is just under 2 kilograms (1.96 kg/4.32 pounds). The quality of the materials is decent enough. However, the device could definitely be prone to bending when handled without the necessary care.
The overall layout is quite comfortable for everyday use. For its size, the MSI Bravo 15 has a respectable number of ports. There are 2xUSB-C and 2xUSB-A 3.2 gen 1 for standard peripherals and flash drives. The full-sized HDMI out and an RJ45 are a nice touch.
The former ensures additional flexibility in terms of gaming monitor choices. The regular cabled Ethernet is a must-have e-sports enthusiast who cannot tolerate Wi-Fi lag. The audio is provided by the standard 3.5 mm combo jack and 2x2W speakers. Laptop webcams are notoriously sub-par compared to modern smartphone cameras.
But this model's implementation doesn't seem like it was an afterthought. The image is nice and crisp, albeit a little noise in low light. The microphone is obviously not intended for streaming but does well in voice calls.
Getting inside requires undoing 12 Phillips head screws. Fortunately, unlatching and lifting the cover reveals a considerable future-proofing potential. There are 2xSO-DIMM and 2xM.2 slots for potential memory and storage upgrades. Moreover, the 3-cell 51-watt-hour battery and the cooling system are easily accessible. This is very beneficial, considering the latest developments in the right-to-repair laws.
Keyboard and Trackpad
The black keys with red accents look quite nice. The font has a distinctive futuristic style that sci-fi buffs may find enjoyable. Unfortunately, the single-zone backlighting doesn't offer much in terms of color variations.
Nevertheless, it does have 3 levels of brightness bound to the Fn+PageUp/PageDown macros. The key travel is fairly short, but at least the sound is not distracting. The buttons feel stable and responsive, keeping the number of mistypes to a minimum. To accommodate the modest size, the designers decided against adding a number pad.
The precision clickpad is not particularly large. It has a pleasant satin finish and clicks down anywhere. Some users have reported slight inaccuracies and accidental click triggering before full actuation. It does support multitouch which makes gesture-based input possible.
Display and Sound
When it comes to color accuracy, the screen is not intended for professional content creators. But the 86% sRGB and 63% Adobe RGB coverage are acceptable for multimedia consumption. Depending on the config, the refresh rate is either 120 or 144Hz. The resolution could be higher, but at 15.6 inches, 1080p looks sufficiently sharp.
The brightness, on the other hand, is reasonable, averaging at around 310 nits. The wide viewing angles coupled with an anti-reflection surface coating make the image consistently reliable. The monitor is, of course, AMD FreeSync and FidelityFX capable. Both are nice to have when chasing a smoother experience in demanding titles.
The audio implementation is competent. The speakers are undoubtedly superior to Acer Nitro 5's. Dell remains the undisputed leader in that department with G5 15's outstanding sound quality. Still, MSI's partnership with Steelseries and their Nahimic technology has its advantages. The software allows for extensive customizability and is capable of providing a high-resolution 3D surround.
Cooling and Energy Management
One of MSI's selling points for this lineup is the cooling system. It consists of several hefty copper pipes and 2 separate fans. The cool air intake occurs from the bottom. There are several performance profiles in the included software suite. Silent keeps the temperature to a minimum.
In this setting, the outer shell rests at around 30 degrees Celsius. Turning on the Extreme mode makes the fan noise significantly more noticeable at 48 dB. Thankfully, the heat dissipates quite evenly, so the chassis never gets unnervingly hot. The keyboard warms up to around 50° C without ever going over that threshold.
The Super Battery mode prioritizes longevity when power outlets are nowhere to be found. Generally, the MSI Bravo 15 A4DCR provides around 7 hours of normal web surfing. But intense gaming drops the maximum battery life to just under an 2 hours. The result is comparable to that of ASUS's TUF A15. By comparison, Acer's Nitro 5 with similar specs manages to last nearly twice as long.
| | | |
| --- | --- | --- |
| Gaming Laptops | Wi-Fi Web surfing | Game Mode |
| ASUS TUF Gaming A15 FХ506, Ryzen 5 4600H, GeForce GTX 1660Ti: | 4 h. 55 min. | 1 h. 03 min. |
| MSI Bravo 15 A4DCR, Ryzen 7 4800H, , Radeon RX 5500M: | 4 h. 28 min. | 0 h. 53 min. |
| Acer Nitro 5 AN515-44, Ryzen 5 4600H, GeForce GTX 1650 Ti: | 8 h. 40 min. | 1 h. 22 min. |
| MSI GL65 10SDK, Core i7-10750H, GeForce GTX 1660Ti: | 4 h. 15 min. | 1 h. 08 min. |
MSI Bravo 15 Hardware Specs
Based on the spec sheet alone, Taiwanese engineers were aiming high. The product boasts the following note-worthy characteristics:
AMD Ryzen 7 4800H CPU, 8 cores, 16 threads, up to 4.2 GHz, 45W TDP
16 GB DDR4 2666 Memory (2 x 8 GB)
AMD Radeon RX5300M GPU (3 GB GDDR6)
15.6" 1920×1080 IPS Display (120 or 144 MHz)
1024 GB Samsung PM981a NVMe SSD (1x M.2 SSD Combo slot) + 1x M.2 SSD slot for expandable storage
Single-color keyboard with adjustable red backlighting
Microsoft Windows 10 Home (x64)
2x Type-C USB 3.2 Gen1, 2x Type-A USB 3.2 Gen1, 1х3,5 combo audio input, 1 HDMI 2.0 b, 1 RJ 45 LAN
2x 2W Speakers
Realtek Gigabit LAN, Intel 802.11 ax Wi-Fi 6, Bluetooth v5.1
3-cell 51 Wh Battery (180W power adapter)
359 x 254 x 21.7 mm, 1.96 kg
On paper, the value proposition is nothing to sneeze at. But what's truly important is how the system performs in various workloads.
MSI Bravo 15: 144Hz Gaming Laptop, CPU AMD Ryzen 7 4800H, AMD Radeon RX5300M, 1TB NVMe SSD – Benchmarks
The MSI Bravo 15 can handle a wide range of resource-intensive tasks. The 8 cores of the AMD Ryzen 7 4800 chip provide incredible multithreading capabilities. Despite the lower base clock, the processor is at least on par with Intel's i9-9880H.
The two trade blows, with one outperforming the other depending on the specific scenario. The 17-inch version's RAM slots go up to 64 GB of memory. The standard-issue 15-inch comes with two 8GB sticks working in dual-channel mode. With a 1 GB Samsung SSD on board, the combination is fairly robust. It scores over 1150 points in single-core and nearly 7450 in multi-core Geekbench tests.
In terms of graphics, the config is not particularly mind-blowing. Enthusiasts tend to classify the AMD Radeon RX5300M as an entry-level card. Its 3 GB of memory is barely enough to sustain visually busy scenes in games.
But well-optimized e-sports titles should run okay at 1080p. On high settings, players can expect around 30 frames per second. After some tweaking, savvy users managed to achieve a more comfortable 60 FPS. Sadly, this makes taking full advantage of higher refresh rates almost impossible. Nevertheless, the general smoothness of the OS is evident in day-to-day use. And aiming at a lower resolution as opposed to 1440p makes sense given the context.
Synthetic GPU Workloads – 3D Mark Fire Strike Graphics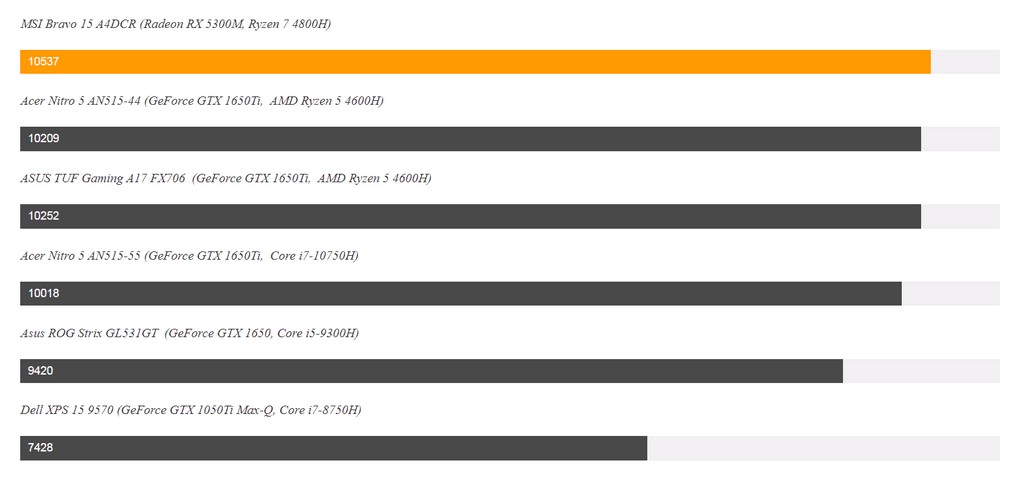 When it comes to evaluating graphics cards, 3D Mark remains a popular choice. It supports Microsoft's DirectX11 API utilized by many current video game engines. Additionally, it allows consumers to establish a helpful baseline for comparing different hardware configurations.
In this test, the MSI Bravo 15 A4DCR approaches the 10540 mark. For reference, comparable systems equipped with Nvidia's 1650Ti often score significantly lower. The Asus TUF Gaming A17, for example, only rises up to 10250. Ryzen-based Acer Nitro 5 barely makes it over 10200. Dell's XPS 15 running a 1050Ti Max-Q has scored the lowest at 7430 points.
Real-world Gaming Applications
Electronic entertainment has been gradually moving into the mainstream. Today's market offers countless AAA productions as well as smaller indie projects. But when it comes to beautiful open-world sandboxes, The Witcher 3 remains unparalleled.
The Witcher 3 – what started out as a simple Neverwinter Nights mod became an epic trilogy. CD Project Red's third-person RPG is deep, fast-paced, and visually stunning. And although relatively demanding, it's optimized well enough to run on slower machines. The latest installment features a variety of interior and exterior environments.
The NPC models look smooth and realistic due to the large polygon count. The combat is accompanied by numerous lighting effects rendered in real time. On top of that, technologies like tessellation, anti-aliasing, and HDR can be outrageously taxing. Another famously problematic area has to do with the so-called Hairworks feature.
Turning this setting on makes the characters' hair a lot more organic and life-like. It flutters in the wind and flows realistically, echoing the protagonist's movement. However, many believe that the benefits don't justify the subsequent drop in frame rates. In any case, even with this parameter on, the Bravo 15 shows surprisingly reassuring results. It manages to approach a respectable 40 FPS at 1080p on Ultra.
Shadow of the Tomb Raider – is another critically acclaimed single-player release. The third installment takes place in Latin America, with its luscious rainforests and indigenous villages. The legendary adventurer Lara Croft travels there to search for the remnants of lost civilizations. She enters ancient Aztec and Mayan dungeons riddled with traps and crawling with dangerous wildlife.
The story revolves around the heroine's father and takes many unexpected twists and turns. As for the visual component, it makes use of the relatively recent Foundation Engine. The light beams radiating through the treetops above are downright breathtaking. The same goes for water physics which generates both mild surface impatience and larger waves. In addition to that, temporal anti-aliasing is more advanced than the standard SSAA. With TAA enabled, on the highest preset at 1920×1080, the gaming laptop outputs around 35 FPS.
Metro: Exodus – There's no better way to put hardware through its paces than playing a post-apocalyptic shooter. This is where Metro Exodus based on Dmitry Glukhovsky's novels comes in handy. The final chapter of the saga is the most ambitious by far. The vast war-torn post-soviet area is populated by groups of survivors and terrifying mutants.
The factions set their bases of operations both underground and on the surface. This time, the maps are open-ended and extraordinarily spacious. The complexity of the surroundings and the overall fidelity easily outshine the previous episodes.
But all that lustrous eye candy doesn't come cheap. With all the settings maxed out, the frame count drops to just below 30 FPS. Fortunately, the experience is highly customizable. Depending on the desired responsiveness, it is possible to lower the most resource-heavy values. Just keep in mind that the difference in quality will be substantial.
Ghost Recon Breakpoint – the aforementioned results are mostly applicable to solo campaigns. But few gamers can go without an occasional multiplayer firefight. The most prominent options in the category rarely pose much of a challenge. But Ubisoft's Ghost Recon Breakpoint is a notable exception. This third-person tactical shooter is set on a fictional island. The terrain is so detail-rich and diverse that only a powerful rig can handle it.
Not to mention the multiple layers of weather, lighting, and environmental effects. Rendering all that beauty without any stuttering is a challenging feat. In an online simulator, every millisecond counts. Participants have to demonstrate lightning-fast reflexes and superior accuracy to stand a chance. But in this case, virtual combatants shouldn't count on more than 22 FPS on Ultra.
This number is not nearly high enough to guarantee the necessary responsiveness. But, as always, there is some room for tweaking. Lowering the resolution, and turning off AA completely might help.
Verdict
The MSI Bravo 15 A4DCR is a bit of a mixed bag. The engineers clearly had to make a number of compromises to hit the price point. It isn't the most powerful 15-inch laptop by any means. But given the cost, the performance per dollar is not too shabby. The build quality is sturdy, and the layout is well-thought-out.
The Gigabit LAN port is a huge plus for competitive gaming. The high refresh rate somewhat compensates for the 1080p screen resolution. Perhaps, the biggest shortcoming is the panel itself. The color accuracy and the response times leave a lot to be desired.
Professional video editors and photographers should probably look elsewhere. But for exploring virtual worlds, watching shows, movies, and YouTube videos, the quality is sufficient. And with a pair of good headphones, music creation is also on the table.
Overall, the most enticing trait of the MSI Bravo 15 A4DCR is the price. As long as the buyer doesn't mind the downsides, it's a solid purchase at MSRP.
Read more reviews:
MSI GS66 Stealth review
Asus TUF Gaming FX705G review
Dell G3 15 review
ASUS ROG Zephyrus G15 review
ASUS ROG Strix Scar 15 review
Ryzen 7 Gaming Laptop for $1000 – MSI Bravo 15
FAQ About Gaming Laptop MSI Bravo 15
Bravo 15 was designed primarily for gaming on a budget. In AAA titles, it is capable of outputting 30-60 FPS, depending on the settings. The dedicated LAN port and the high refresh rate make it suitable for competitive multiplayer. The 8-core AMD Ryzen CPU is fairly capable. However, the AMD Radeon RX5300M GPU is usually the bottleneck.
Mirco-Star International is a reputable computer hardware manufacturer based in Taiwan. Its laptops, components, and other products are generally well-reviewed. Many consumers enjoy MSI products for their build quality, design, and performance. Enthusiasts consider this best gaming brand a formidable competitor to ASUS's ROG and Lenovo's Legion lines.
The brand offers numerous product lines ranging from budget to premium. The MSI GE76 Raider with a 17-inch display is incredibly powerful but quite expensive. The GS66 Stealth is a great all-rounder with a slimmer chassis. The Alpha series features several solid mid-tier options. Finally, Bravo 15 is an affordable alternative for gaming at lower settings.
The MSI Bravo 15 laptop has a built-in webcam. It offers a reasonable image quality sufficient for video calls. The microphone captures the speaker's voice at a considerable distance, even through the fan noise.
The MSI Bravo 15 is a decent option in the low price bracket. It is well-built and offers a lot of performance-per-dollar. The AMD Ryzen CPU is good for general productivity tasks. However, the 3GB Radeon GPU is capable of outputting 60 FPS only at lower settings. Overall, it's worth considering, given the modest price.
The Review
MSI Bravo 15 Gaming Laptop
PROS
High performance processor
Wi-Fi 6 support
Low weight compared to competitors
144Hz display
CONS
Not quite a familiar keyboard layout
Limited range of ports
Noise levels too high in games
Short battery life
Review Breakdown
CPU: AMD Ryzen 7 4800H CPU, 8 cores

0

RAM: 16 GB DDR4 2666 Memory (2 x 8 GB)

0

GPU: AMD Radeon RX5300M GPU (3 GB GDDR6)

0

Display: 15.6" 1920×1080 IPS Display (120 or 144 MHz)

0

Connectivity: 2x Type-C USB 3.2 Gen1, 2x Type-A USB 3.2 Gen1, 1х3,5 combo audio input, 1 HDMI 2.0 b, 1 RJ 45 LAN

0

Memory Size: 1024 GB Samsung PM981a NVMe SSD (1x M.2 SSD Combo slot) + 1x M.2 SSD slot for expandable storage

0

Weight: 1.96 kg/4.32 pounds

0

Battery: 3-cell 51 Wh Battery (180W power adapter)

0
MSI Bravo 15 Gaming Laptop
MSI Bravo 15 Gaming Laptop Review and Specs - the Ryzen 7 4800h takes advantage of the 7 nm process. The build quality is sturdy, and the layout is well-thought-out
Product SKU: Bravo 15
Product Brand: MSI
Product Currency: $
Product Price: 850
Price Valid Until: 2023-06-18
Product In-Stock: InStock