Asus TUF Gaming FX705G – so today's review will focus on one of ASUS' new gaming laptops. The 17-inch model features the eighth generation of Intel Core processors.
A relatively new range for the gaming brand. So far, the company has introduced three models: FX504, FX505, and FX705.
Boxing and packaging
The Asus TUF Gaming FX705G laptop is packaged in a cardboard box with a handle of the usual size. A quick start guide, warranty card, and power supply unit are included.
Asus TUF Gaming FX705G specs
The Asus TUF Gaming FX705G configuration can be very diverse. Each model may contain a different CPU, amounts of RAM, storage subsystems, gaming graphics cards, and types of LCD matrix.
Asus TUF Gaming FX705G specs
CPU:

Intel Core i7-8750H (Coffee Lake)

Chipset:

Intel HM370

RAM:

16 GB DDR4-2666 (1×16 GB)

GPU:

Nvidia GeForce GTX 1060 (6 GB GDDR5)




Intel UHD Graphics 630

Screen:

17.3 inches, IPS, matte, 1920×1080, 144 Hz (AUO B173HAN04.0)

Sound subsystem:

Realtek ALC235

Drive:

1×SSD 256 GB (WDC PC SN520, M.2 2280, PCIe 3.0 x4)




1×HDD 1 ТB (Toshiba MQ04ABF100, SATA600)

Optical Drive:

no

Cardmaker:

no

Network interfaces:

Wired network: Realtek RTL8168/8111




Wireless: Wi-Fi 802.11a/b/g/n/ac (Intel Wireless-AC 9560, CNVi)




Bluetooth: Bluetooth 5.0

Interfaces and ports:

Wired network: Realtek RTL8168/8111




Wireless: Wi-Fi 802.11a/b/g/n/ac (Intel Wireless-AC 9560, CNVi)




Bluetooth: Bluetooth 5.0




Interfaces and ports




USB 3.0/2.0: 2/1 (Type-A)




USB 3.1: no




HDMI 2.0: yes




Mini-Display Port 1.2: no




RJ-45: yes




Microphone input: yes (combined)




Headphone output: yes (combined)

Input devices:

Keyboard with backlight and NumPad




Touchpad: clickpad

IP Telephony:

Webcam HD 720p




Microphone

Battery:

64Wh.

Dimensions:

400×279×28 mm

Weight without power adapter:

2,6 kg

Power Adapter:

180 W (19.5 V; 9.23 A)

OS:

Windows 10 (64-bit)
So, at the heart of the Asus TUF Gaming FX705G laptop is the CPU Intel Core i7-8750H.
The CPU runs at a clock speed of 2.2GHz. With Turbo Boost technology, it is capable of overclocking up to 4.1GHz.
It further features Hyper-Threading technology (12 threads total), a 9MB L3 cache, and a power rating of 45W.
The processor is paired with Intel HD Graphics 630. It handles everyday tasks well.
However, there's also the Nvidia GTX 1060. It houses 6GB of GDDR5 video memory. This series is quite popular on the market. For example, it is the most common card among Steam users.
The very switching between video cards is done automatically with Nvidia Optimus technology.
During testing with FurMark, the graphics card scored 1544 MHz. The device has two bays for using SO-DIMM memory modules. It is equipped with 1 DDR4-2666 RAM chip with a capacity of 16GB. Nevertheless, there is a possibility of further upgrades. The maximum claimed capacity is 32GB.
Two hard drives are provided: a 256GB WDC SN520 NVMe SSD and a 1TB 2.5″ Toshiba MQ04ABF100 HDD.
The SSD is installed in a standard M.2 slot, works with a PCIe 3.0×4 interface, and has a 2280 form factor. It can be used for the operating system. And a Toshiba hard drives for storing personal files.
This Asus TUF Gaming FX705G laptop is equipped with dual-band (2.4 and 5 GHz) Wi-Fi thanks to Intel Wireless-AC 9560. In addition, there is a Realtek RTL8168 network interface.
The audio system is based on a Realtek codec (ALC235). There are two standard speakers on the sides.
The device is equipped with an integrated webcam. It is located in the center of the upper frame of the gaming monitor.
The camera is capable of transmitting images in 720-HD format at 30 fps.
It remains to add that the model is equipped with a standard 64Wh non-removable battery.

Appearance and chassis ergonomics
The appearance is similar to the ROG Strix series. The difference lies in the port set, chassis material, and other minor details. The device is made of gray plastic with a silver metallic finish. In the center is a mirrored brand logo.
Although the Asus TUF Gaming FX705G laptop's cover is only 7.5mm thick, it's quite stiff and strong.
Both the gaming keyboard and the touchpad have a black plastic surface resembling metal. It is not glossy, so fingerprints are not very noticeable on it. The lower panel has large air vents for ample cooling. For a more stable position, rubberized feet are provided.
The width of the screen frame is only 7 mm. Due to this, the 17-inch version is not much different from the 15-inch device with a conventional bezel.
At the top right, the power button is located. There are also cooling vents in the center, just above the keyboard.
The operation indicators are located at the top right. There are 4: power light, battery level, hard drive activity, and WI-Fi mode.
Attached to the chassis is a hinge at the bottom of the cover. It allows the screen to be tilted back about 120 degrees.
On the left frame, there are 2 USB 3.0 ports. Also 1 USB 2.0, HDMI, RJ-45, a mini-jack, and a charging socket.
Along the right edge, there is a ventilation hole and a hole for the Kensington lock.
Finally, at the back, there are ventilation holes to vent the hot air from the chassis.
Disassembly options
If you remove the bottom panel, you can access almost all parts of the Asus TUF Gaming FX705G laptop.
Asus TUF Gaming Laptop – Input devises
Keyboard
The Asus TUF Gaming FX705G laptop uses a keyboard with the marketing name HyperStrike. It is a membrane-type device with increased key spacing. The distance is 1.8 mm. They are standard size and the distance between them is about 4 mm. The color of the buttons is black and the characters are white.
RGB backlighting is available. You can use the special program TUF Aura Core to adjust it.
The WASD area is highlighted in its color. They are transparent, it is made for fans of action games.
The model's keys are capable of handling any number of simultaneous presses. The special ROG Overstroke technology helps fine-tune typing settings. So you can easily adjust your comfort to match your gaming preferences.
It's quite durable. The manufacturer claims it can handle up to 20 million taps. The construction of the device is quite tight. It doesn't deform under pressure when pushed.
Touchpad
The Asus TUF Gaming FX705G laptop's touchpad is made with simulated pressure. The working surface is 105×74 mm. It is slightly recessed for greater ease of use.
Sound System
As written above, the audio system is based on the Realtek ALC235 HDA codec. TheAsus TUF Gaming FX705G  laptop is equipped with 2 speakers.
The integrated speakers performed decently when tested. They do not hum or rattle. At the same time, it is quite loud. The sound itself is of good quality, it is quite deep and rich.
To evaluate the audio output, we tested the Asus TUF Gaming FX705G laptop with the Creative E-MU 0204 sound card. For this purpose RightMark Audio Analyzer 6.3.0 was used. The result is a rating of "very good".
Screen
For the business segment, screens are very often noticeably spared. Then in our case, this would be a huge omission. The laptop uses an AUO B173HAN04.0 IPS matrix with a white LED backlight. It showed good calibration and even compared to premium displays, this one looks good.
The diagonal size is 17.3″.The screen resolution is 1920×1080, at 144Hz. But that's in the higher-priced version. The more affordable version got the standard 60 Hz. It's also worth noting that the display is matte and completely glare-free.
After testing it can be concluded that the maximum brightness of the display is 280 cd/m². The maximum gamma value is 2.1. At the same time, the minimum screen lightness was 12 cd/m².
| | |
| --- | --- |
| Screen test results | |
| Maximum white brightness: | 280 cd/m2 |
| Minimum brightness white: | 15 cd/m2 |
| Gamma: | 2,1 |
Gamma coverage is 85.9% sRGB and color gamut is 94.7% sRGB.
The light filters highlight the primary spectra reasonably well. The only drawback is the narrowing of the screen's red spectrum.
The Color temperature is stable throughout the gray range at 7000K. The accuracy does not exceed 3 in all grayscale, which is very good for this class.
The model has a wide viewing angle. You can look at it from any perspective without any problems.
Overall, the screen of the device turned out to be of good quality. And it handles big games as well as top-quality movies just fine.
Performance under load
Three levels of CPU utilization was used for the analysis:
Medium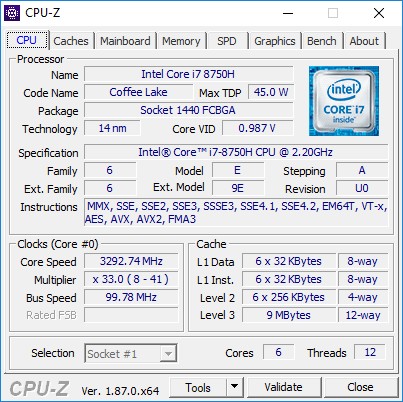 For this, we used AIDA64 (Stress prog). The clock frequency of the cores is only 3.3 GHz.
In this case, the temperature is kept at 83 °C (181.4 °F). Power consumption is stabilized at 45W.

It's worth noting that at this load the cooling system is already running at full capacity.
High
In this case, the processor is tightly loaded and its operating frequency drops to 2.5 GHz.
The CPU stabilizes at 82°C (179,6 °F), and the power consumption of the core remains at 45 watts.

Super-High Load
For ultra-high-end loading, we used Prime95.
The frequency of the kernels will drop to 2.3 GHz. The temperature of the cores will be even lower than in the previous case – 75 °C (167 °F), and power consumption will be stabilized again at 45 W.
The above-mentioned modes refer to the case when only the CPU is loaded. Now let's see what happens if we load the digital GPU together with the CPU. We will use Prime95 to load the processor and FurMark to load the graphics card.
In this setting, we will use 2.0GHz for the chip itself.
This results in 83°C (181,4 °F) temperature and the power consumption is reduced to 35W.

Evaluating the speed of hard drives
As mentioned above, the Asus TUF Gaming FX705G laptop's disk memory is a combination of a WDC PC SN520 NVMe drive with an M.2 socket and a 2.5″ Toshiba MQ04ABF100 HDD.
We evaluated the speed performance of the SSD. In this case, it is used as a system drive.
According to the ATTO Disk Benchmark utility, the sequential data transfer speed limit is 1.6GB/s. At the same time, sequential writes – at 1.2GB/s.
Another program, CrystalDiskMark, showed lower write speed results.
This may be explained by the fact that it uses a different queuing algorithm.
The AS-SSD evaluation results are attached below.
Noise level
Measurements were taken using a sound absorption chamber. The microphone was placed in the conditional head position of the user.
In simple mode, the noise level was 28 dBA. This corresponds to the natural daytime background in an office environment.
In High mode, the loudness factor is 40 dBA, which reaches the ergonomic limit. At this level, the model will stand out from other devices in the room.
Under simultaneous video card and CPU stress load, the noise level is almost the same as when only the CPU is loaded – 43 dBA. Both CPU and GPU simultaneous top-loading modes also achieve 43dBA.
| | |
| --- | --- |
| Load degree: | Noise level |
| Idle mode: | 28 dBA |
| Stress loading the graphics card: | 40 dBA |
| Stress load the processor: | 43 dBA |
| Stress loading of video card and processor: | 43 dBA |
Overall, the gaming laptop can be categorized as a fairly noisy device.
Asus FX705G – Battery life
The model under review has a 64Wh non-removable battery. For the tests, we used the iXBT Battery Benchmark v1.0 script. It's worth mentioning that the battery life was measured at a display brightness of 100 cd/m².
For the benchmark, we used the graphics core of the processor.
The result is:
| | |
| --- | --- |
| Load degree: | Working time: |
| Working with text: | 4 h. 53 min. |
| Viewing video: | 4 h. 24 min. |
The gaming laptop provided a battery life that was highly dependent on the type of load (as it should be on the theory of the matter). Its level of autonomy can be said to be good for all modes except gaming. For the latter, it is advisable to connect the Asus TUF Gaming FX705G laptop to the mains.
Performance Research
The performance of the device was measured using iXBT Application Benchmark. At the same time, we used iXBT Game Benchmark to assess gaming benchmark performance. For comparison, below is a table of results compared to the Asus ROG Strix GL704GM Scar II on the same processor.
Asus TUF Gaming FX705G versus the Asus ROG Strix GL704GM Scar II
| Test | Reference result | Asus TUF Gaming FX705G | Asus ROG Strix GL704GM Scar II |
| --- | --- | --- | --- |
| Video conversion, points | 100 | 54,88±0,29 | 73,21±0,26 |
| MediaCoder x64 0.8.52 | 96,0±0,5 | 181,7±1,5 | 128,80±1,15 |
| HandBrake 1.0.7 | 119,31±0,13 | 221,1±2,8 | 166,5±0,7 |
| VidCoder 2.63 | 137,22±0,17 | 236,7±0,9 | 186,8±0,8 |
| Rendering, points | 100 | 63,5±0,4 | 75,1±0,3 |
| POV-Ray 3.7 | 79,09±0,09 | 128,1±0,4 | 112,1±0,3 |
| LuxRender 1.6 x64 OpenCL | 143,90±0,20 | 227,4±2,7 | 193,8±1,0 |
| Вlender 2.79 | 105,13±0,25 | 176,8±2,8 | 145,6±1,4 |
| Adobe Photoshop CС 2018 (3D-Rendering) | 104,3±1,4 | 149,3±2,1 | 123,8±1,7 |
| Creating video content, points | 100 | 65,6±0,2 | 83,14±0,17 |
| Adobe Premiere Pro CC 2018 | 301,1±0,4 | 370,2±1,1 | 287,1±0,8 |
| Magix Vegas Pro 15 | 171,5±0,5 | 314,8±1,4 | 230,8±0,6 |
| Magix Movie Edit Pro 2017 Premium v.16.01.25 | 337,0±1,0 | 588,0±2,9 | 449,8±2,0 |
| Adobe After Effects CC 2018 | 343,5±0,7 | 488±8 | 423±3 |
| Photodex ProShow Producer 9.0.3782 | 175,4±0,7 | 259,1±1,3 | 209,4±1,0 |
| Processing of digital photos, points | 100 | 67,3±0,5 | 104,0±0,7 |
| Adobe Photoshop CС 2018 | 832,0±0,8 | 1029±13 | 970±14 |
| Adobe Photoshop Lightroom Classic СС 2018 | 149,1±0,7 | 268±5 | 150,5±1,7 |
| Phase One Capture One Pro v.10.2.0.74 | 437,4±0,5 | 645,6±1,2 | 331,1±2,6 |
| Text recognition, points | 100 | 59,2±0,5 | 72,4±0,5 |
| Abbyy FineReader 14 Enterprise | 305,7±0,5 | 516±5 | 422,3±2,7 |
| Archiving, points | 100 | 54,98±0,20 | 92,8±0,3 |
| WinRAR 5.50 (64-bit) | 323,4±0,6 | 572±3 | 345,3±2,2 |
| 7-Zip 18 | 287,50±0,20 | 537,7±2,2 | 312,6±0,4 |
| Scientific calculations, points | 100 | 70,0±1,2 | 82,9±1,7 |
| LAMMPS 64-bit | 255,0±1,4 | 381,0±1,4 | 293,9±0,6 |
| NAMD 2.11 | 136,4±0,7 | 213,2±0,6 | 183±13 |
| Mathworks Matlab R2017b | 76,0±1,1 | 104±4 | 95,2±3,6 |
| Dassault SolidWorks Premium Edition 2017 SP4.2 | 129,1±1,4 | 169±9 | 141,0±2,0 |
| File operations, points | 100 | 183,1±1,7 | 225,5±1,8 |
| WinRAR 5.50 (Store) | 86,2±0,8 | 48,0±0,7 | 38,7±0,5 |
| Data copying speed | 42,8±0,5 | 23,0±0,3 | 18,77±0,16 |
| Integral score excluding the accumulator, points | 100 | 61,95±0,20 | 82,71±0,27 |
| Integral Storage score, points | 100 | 183,1±1,7 | 225,5±1,8 |
| Integral performance score, points | 100 | 85,7±0,3 | 111,8±0,4 |
Calculated over 5 attempts for more objectivity in the results. As can be seen, the model is 14% below the benchmark system in terms of output results. The integral score excluding the drive was 62 points. It's worth noting that a competitor with the same processor scored 83 points, 34% higher.
This suggests that performance is not only achieved by the CPU type, but also by the frequency at which it runs. And that can vary from one model to another – depending on the configured TDP and how the cooling system works.
Next, let's take a look at the playback results. In our testing, we used the standard 3 levels of graphics settings. Their resolution was 1920×1080. The device has a GTX 1060 with the ForceWare 411.70 video driver.
Results:
| Game tests | Maximum quality | Average quality | Minimum quality |
| --- | --- | --- | --- |
| World of Tanks 1.0 | 89±2 | 177±2 | 299±1 |
| F1 2017 | 67±2 | 117±1 | 119±4 |
| Far Cry 5 | 58±3 | 66±2 | 71±2 |
| Total War: Warhammer II | 19±3 | 75±1 | 95±2 |
| Tom Clancy's Ghost Recon Wildlands | 32±1 | 53±3 | 72±1 |
| Final Fantasy XV | 41±1 | 56±1 | 71±2 |
| Hitman | 63±2 | 81±2 | 98±3 |
At this resolution, all the games we've used run comfortably on low and medium settings. The desktop consistently shows more than 40 FPS in these titles. Almost all games can be played at maximum settings. Our model can be classified as a performance gaming device.
According to the integral result, the Asus TUF Gaming FX705G laptop can be classified as high performance. According to the grading, with a score of fewer than 45 points, the unit belongs to the entry-level performance. A score of 60-75 is categorized as performance. Finally, with a score of over 75, it is a high-performance solution.
FX705G Asus – Conclusions
At the time of writing for the model ASUS TUF Gaming FX 705GM, it was on sale without an operating system for around US$1,539.99 at Amazon. More common are laptops of the same type with slightly more modest specs. They are equipped with 8GB of RAM and a 128GB SSD drive. Such variants cost around $1300.
The device has a stylish design as well as a nice matte IPS screen at 144Hz. With acceptable resolution and a narrow bezel around it. The keyboard and touchpad are also of a high standard.
Overall, the device is interesting, but not without its shortcomings. Chief among which is the noise level at high load. Also worth noting is the short battery life.
More gaming laptop reviews:
ASUS ROG Zephyrus G15 review
ASUS ROG Zephyrus G14 Review
ASUS ROG Strix Scar 15 review
Review on ASUS ROG Strix SCAR 17 G733
ASUS TUF Gaming FX 705 Laptop Review: Price, Features & Specs
FAQ About Asus TUF Gaming FX705G Laptop
Yes, it's good in the playing category. You'll be able to play all the new stuff with its high-performance hardware. The gaming laptop lets you run them on medium-high configurations. New less massive titles will also be able to be appreciated on strictly high settings.
This Asus TUF Gaming FX705G laptop isn't that good at it. After all, it's not what it's used for. It has a Geforce GTX series video card. It's a gaming series of graphics boards. If you need a device for rendering, you should pay attention to other options. Especially those in which there is a GPU from the series such as the Nvidia Quadro.
This model has several nice features. It has a nice exterior design and narrow screen frames. The device has a comfortable, wide, and clear keyboard. The screen itself has good picture quality and a rich color spectrum. Overall, it is a great option for work and plays.
It depends on your game requirements. If you are a professional gamer and play at 60 FPS+, it is better to take the 16 GB variant. These days, many online titles are extremely demanding on the capacity of the memory system. If you just want to play at regular 30-50 fps you will need a model with 8 GB. Moreover, now there is an opportunity to insert additional memory in a free memory slot.
It all depends on your preferences. This amount will be enough to play comfortably on medium-high settings with FPS around 30-50. To play at ultra settings with comfortable FPS you will need 16 GB. To squeeze everything out of the game engine you will need 16 GB or even 32 GB.
The Review
Asus TUF Gaming FX705G Laptop
PROS
A nice exterior design and narrow screen frames
The TUF FX705G has a comfortable, wide, and clear keyboard
The screen itself has good picture quality and a rich color spectrum
A nice matte IPS screen at 144Hz
It`s a great option for work and plays
CONS
The noise level at high load
The short battery life
Review Breakdown
CPU: Intel Core i7-8750H (Coffee Lake)

0

RAM: 16 GB DDR4-2666 (1×16 GB)

0

GPU: Nvidia GeForce GTX 1060 (6 GB GDDR5)

0

Display: 17.3 inches, IPS, matte, 1920×1080, 144 Hz

0

Connectivity: Bluetooth 5.0, Wi-Fi 802.11a/b/g/n/ac (Intel Wireless-AC 9560, CNVi), USB 2/1 (Type-A)

0

Memory Size: 256 GB SSD + 1TB HDD

0

Weight: 2.6 kg (5.6 lbs)

0

Battery: 64W

0
Asus TUF Gaming FX705G Laptop
Asus TUF Gaming FX705G review: 17-inch gaming laptop with Intel Core i7 CPU. TUF FX705G specs: 16 GB DDR4 Memory, NVIDIA GeForce GTX 1060, SSD 256 GB, HDD 1 ТB
Product SKU: FX705G
Product Brand: Asus
Product Currency: $
Product Price: 1,031
Price Valid Until: 2023-06-18
Product In-Stock: InStock