Gaming Laptop ASUS ROG Zephyrus G14 – it's a true finding for people who appreciate long-lasting battery life combined with performance. This device boasts both of these features and even more. It has future-proof specs capable of running all modern PC games.
Along with that, the ROG brand is famous for being budget-friendly. It manages to combine affordability and productivity in each new model released.
Upsides:
Rarely seen but great AMD + NVIDIA blending
Stays up longer than any other average contenders
Capable and overwhelmingly fast SSD
Vivid 120Hz display
Loud enough speakers with many presets
Unusual, attractive white design
Downsides:
The absence of a webcam
Serviceable keyboard and touchpad
Color-restricted keyboard backlighting
Top specs edition may seem pricey
This gaming laptop ROG Zephyrus G14 has reached the highest positions and is holding them still. It's a favorable purchase for many players due to its battery life and performance balance. The ASUS company has done a great job creating a gaming machine surviving this long. Not every daily task-related device can show similar results.
Equipped with Ryzen 9-4900HS CPU and GeForce RTX 2060 Max-Q GPU, it provides solid FPS. Everything above mentioned is laced with a lightning-fast SSD and a 120Hz refresh rate display. On top of that, a user can't complain about the keyboard and speakers installed.
The first feature is expected to be a decent level. Though, the latter one provides a complete immersion into a session with no headphones needed.
All the described pros are wrapped into a sleek milky white chassis. It's made of magnesium alloy and feels nice to touch. Despite seeming easy to stain, the case stays clean long enough. After all, one can wipe all the blots away with no problem.
What not to like about it
With all the positive moments, there's something negative to say about this rig. The first thing that catches the eye is the absence of a webcam. The manufacturer explains this downside as a possibility to reduce the final price. It's not a big deal if a prospective consumer doesn't use it too often. However, people working from home and streamers may find it a sufficient difficulty.
Another disappointing fact is the backlighting of the keyboard. One won't find millions of colors available or anything. It's just feeble glowing similar to the chassis color and that's it.
Nevertheless, all these cons are nothing compared to the strong sides the model has. They don't affect its performance yet only emphasize its gaming-aimed potential.
ASUS has done everything possible to reduce the cost but save maximum performance.
Prices and Configurations Gaming Laptop ASUS ROG Strix SCAR 17 G733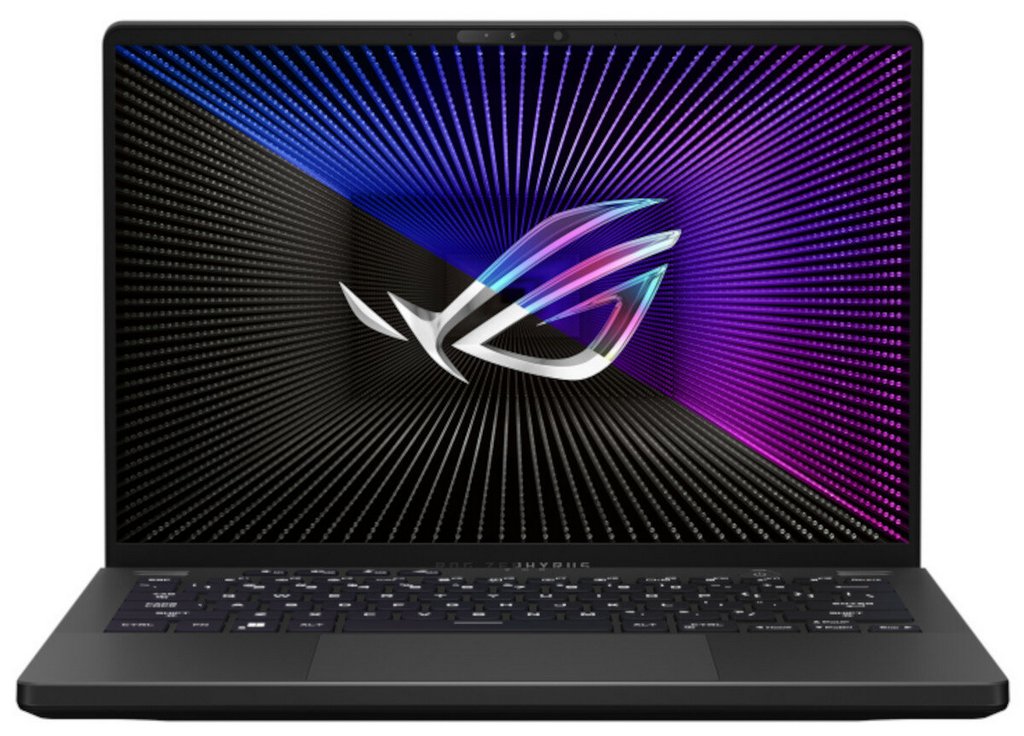 The Gaming Laptop ASUS ROG Zephyrus G14 boasts a variety of builds that differ in specs and money asked. Let's have a quick look at a top version.
Remember, the manufacturer asks $2000 to enjoy this beast at its full potential.
| | |
| --- | --- |
| CPU: | AMD Ryzen 9 4900HS |
| RAM: | 16GB (upgradable up to 32GB) |
| GPU: | NVIDIA GeForce RTX 2060 |
| Display: | 14-inch 1440 IPS, 60Hz |
| Connectivity: | Wi-Fi 6, Bluetooth 5.0 |
| Memory Size: | 1TB SSD |
| Weight: | 3.75 lbs |
This particular model isn't that famous among amateurs since it's a bit overpriced. Despite having impressive specifications now, they're not so future-proof. Not so many people are ready to invest $2000 into a device like this.
One of the most frequently bought editions is a middle one. Gaming Laptop ASUS ROG Zephyrus G14 has the same CPU and GPU. Then, there are 16GB of RAM and a 1TB SSD. Everything is topped with a 1080p monitor boasting 120Hz. All that starts at $1397 on Amazon.
There's a base-configured option for only $1100. It boasts Ryzen 7-4800HS, the GTX 1650, and only 8GB of RAM. Besides, it has a low-capable 512GB SSD and a 1080p 60Hz gaming monitor. This alternative deserves a right to be sold yet it's too weak for upcoming titles.
What Builds Are Worth the Attention
As it's been mentioned, it's highly advisable to choose a middle variant. It combines inside components taken from a better version but with a cheaper price. Besides, this particular build unlocks the model's hidden potential. All the details work fine together providing maximum performance and stability.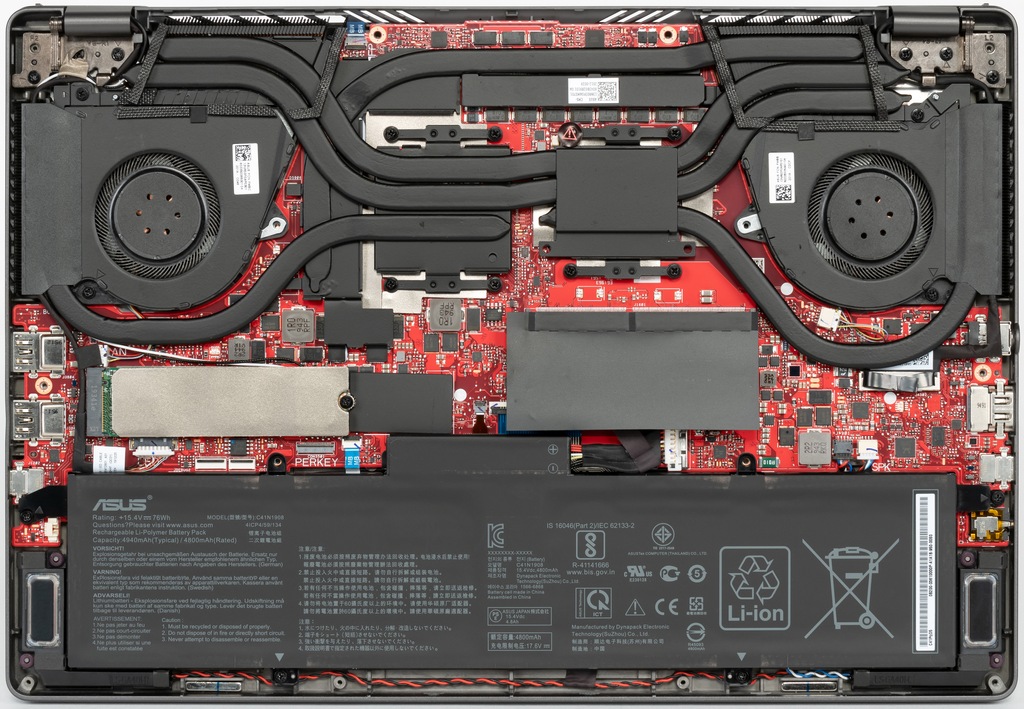 One won't see a situation similar to what the Blade 14 from Razer has. The model has a perfectly fitting GPU installed. It shows no signs of overheating and making loud noises when playing.
Design Solutions and Overall Look
This point is what makes the reviewed product exceptional. Its design is too different from what players are used to seeing in gaming laptops. With the, as ASUS calls it, moonlight white color, it immediately catches the eye. The Gaming Laptop ASUS ROG Zephyrus G14 seems to come from the future with an industrial look like this.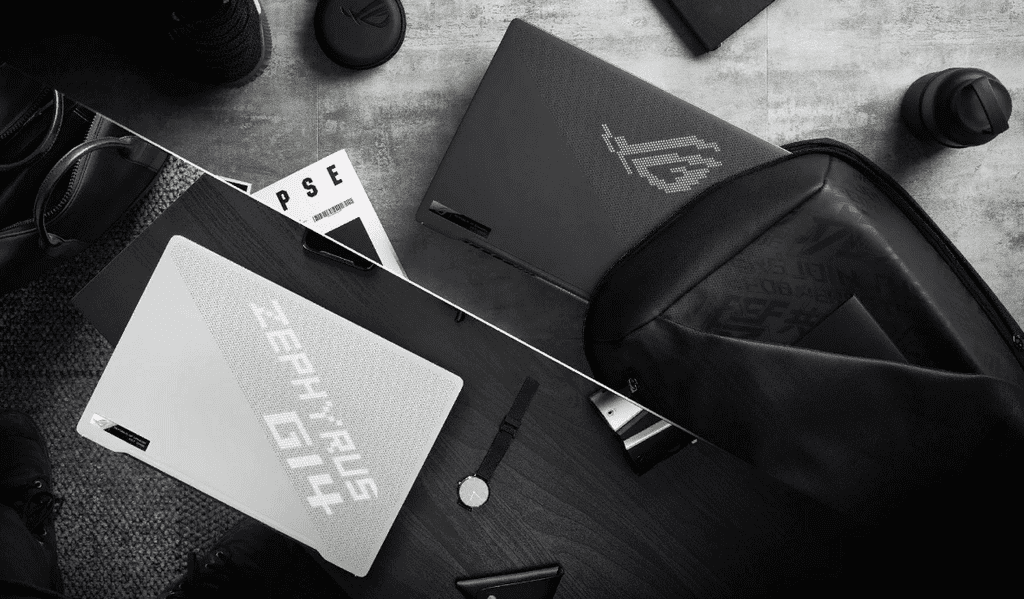 Another unique trait is AniMe Matrix. It represents microdots of LED mini-lights covering half of the lid. This feature allows people to set up their own picture on the back. It's also animated and looks kind of pixel, which is a nice knick-knack to have. Besides, there's an engraved Zephyrus logo making the lid look overwhelming.
When opening a laptop, one sees an Eclipse Gray scheme covering the inside panel. It also looks attractive but doesn't match the overall design solution. The white backlighting doesn't fit at all. The keyboard seems to be more "gaming" with this thing toggled off.
Being only 3.75 lbs puts this 14-inch machine in an ultrabook-like category. It's lighter than the G7 15 made by Dell and ROG Strix Scar 15.
Speaking of what a prospective consumer may find around the rig. On the left side, one sees a power socket, an HDMI port, and a Type-C. There's also a 3.5mm jack if someone needs it. On the opposite side, there are the same inputs and a few 3.2 USBs.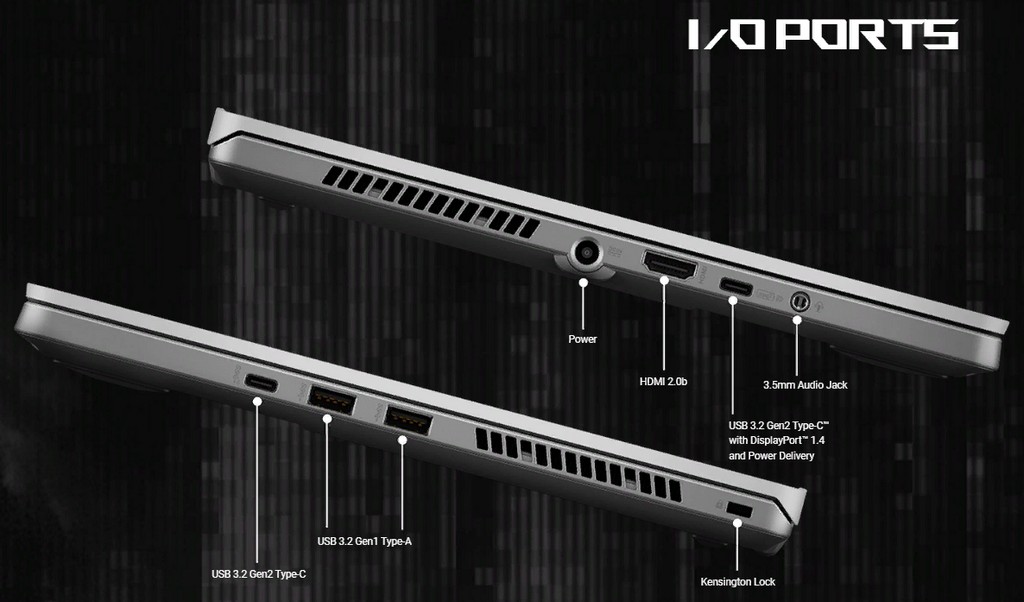 It's a sufficient number to use this gadget at maximum. Even if one needs more ports, there's always a way to buy a docking station.
Screen Performance
Let's take a middle edition as an example. It boasts a 14-inch display with a 1920 x 1080 resolution. On top of that, it has a 120Hz refresh rate guaranteeing smooth PC gameplay. These parameters will suit any amateur PC player for sure.
Despite being equipped with a GPU from NVIDIA, the monitor works with AMD FreeSync technology. That's become possible due to the drivers created by the graphics card manufacturer.
The device demonstrates a bright and dynamic picture whether watching a movie or PC playing. Launching a gloomy enough title like Doom Eternal feels comfortable. A user will enjoy an intensive color gamut when smashing zombies' heads. One will see clearly all the dark, narrow corridors, and necessary details.
Testing it in a colorimeter, showed a result of 117% of the sRGB color gamut. This exceeds the average marker in this segment. Taking the G7 15 and Scar II as an example, both showed worse numbers. Boasting 323 nits, it also outperformed these two rivals in terms of brightness points.
Keyboard and Touchpad
Featuring new Ergolift technology, it's a delight to press these keys. This novelty allows a person to type at a comfortable angle. No matter what a user is doing, it can be anything. Whether one is typing a message for a friend or playing, the keyboard feels awesome.
Coming down to the white backlight, it's not as cool as someone expects. The reason for that is that this color doesn't fit buttons. One will never read the letters printed on them because of this illumination.
On top of that, a prospective buyer will never find various color options. It's strictly white and that's it. Therefore, a user can only turn this lighting on or off.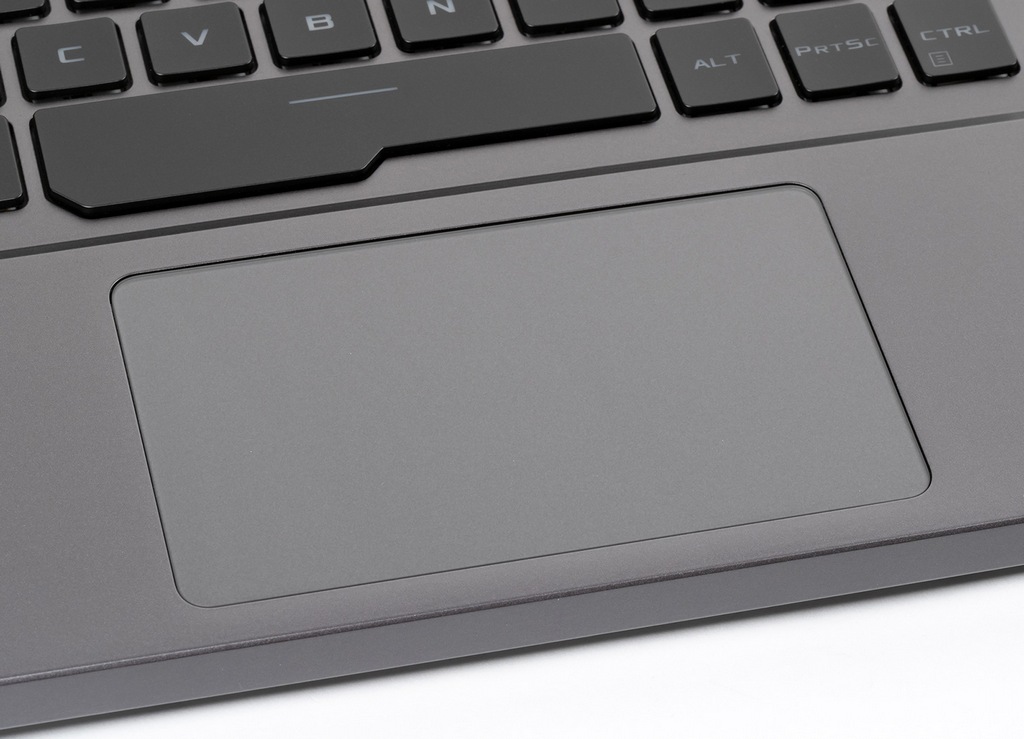 There are some complaints concerning the touchpad as well. It can't boast large keys, which is a shame. They're clickable yet far from being convenient. One will never use them for playing or even surfing the Web. Though, it responds well enough due to the Windows Precision drivers installed.
Sound Quality
Unlike many other rivals in this segment, this model brings a perfect sound experience. For the price stated, ASUS has outperformed its contenders way ahead. The reason for that is the Dolby Access system that provides the highest quality possible.
Downloading its app gives a user access to various presets. They include the following ones:
Dynamic
Game
Movie
Music
Voice
All of them speak for themselves and actually work as intended. It's highly recommended to set "Dynamic" when listening to music. This mode will boost up bass and make the sound more living. Obviously, using "Game" will provide a deeper immersion into any title. Let's have a look at two clear examples when using the above-mentioned presets.
When running Doom Eternal, one will enjoy deep notes of the electric guitar playing. The shotgun shots are terrifying and make a person shiver from how realistic they sound. Though, heavy bass isn't as clear as has been expected. It's way too low and distorted to enjoy it using this preset.
Listening to Foo Fighters with their "The Pretender" feels amazing. The vocal sounds smooth and melodic. There hasn't been a sign of problems concerning bass. Using the special mode makes it so realistic and strong like being in a live concert. All the instruments play in harmony and blend perfectly.
Battery Life
Another reason for choosing the Zephyrus G14 is its long-lasting battery. One can enjoy scrolling the Web for 11 hours and 32 minutes nonstop. It's actually the most survivable laptop a purchaser can find right now. Compared to G7 15 and Scar III, the review guest lasts three times longer.
Keep in mind that this number is dramatically lower when playing a demanding title. A user can enjoy their favorite games with no charger attached for about 2 hours. The final marker may significantly vary depending on the in-game settings chosen.
Summarizing Strong and Weak Sides
Despite having minor negative moments, this machine is worth one's attention. A prospective buyer will never complain about its specs and overall performance. On top of it, this model features decent battery life when needed. All that comes for a reasonable and quite affordable price.
BUY IT IN CASE OF
1. If one's looking for high performance combined with survivability. It demonstrates perfect results in both cases.
2. If one needs a reliable item for a budget cost. This Gaming Laptop ASUS ROG Zephyrus G14 is one of them for sure. It has great specifications for the money asked.
3. If one's hunting for a simple yet sleek design. The Zephyrus G14 isn't like other its rivals on the market. This rig features its own unique style looking different from what others offer.
DO NOT BUY IT IN CASE OF
1. If one's expectations are too high. This Gaming Laptop ASUS ROG Zephyrus G14 is definitely good but one shouldn't expect too much. It's not powerful enough to compete with more capable contenders in the future.
2. If one needs a premium device in all senses of the word. Despite being performant and good-looking, this gadget is far from this segment. It can't boast multi-color RGB lighting or anything like that.
As one can guess, this machine is perfect if treating it as a mid-class variant. It has everything to run the most demanding titles for now. Sure, its performance level will decrease in the nearest future. Though, its specs and price doesn't scream to be too future-proof. Besides, it's not that large and massive to have the best inside details installed.
Overall Verdict: score of 9.1
Now, it's one of the most solid machines one can buy from ASUS. It provides decent performance combined with a portable design and uniquely looking chassis. Besides, it can last for half a day without a charger attached. A prospective user will never complain about the price as well.
There are, of course, the downsides one should know about before purchasing the rig. The review guest isn't the item with the highest refresh rate possible. On top of it, its screen isn't that big, which isn't enough for some people. Additionally, for players who can't stand AMD CPUs, it's better to find another option.
Video-review on ASUS ROG Zephyrus G14
FAQ About ASUS ROG Zephyrus G14
This device has been created with this goal. It features solid specifications together with long-lasting battery life. As a bonus, it's quite portable and has comfortable dimensions to move with it around.
Thanks to its diminutive dimensions, one can use it for this purpose as well. It's compact and light enough to take it anywhere. Besides, for people who are into multitasking, its high performance will do only good.
It strictly depends on the build chosen. If a person is looking for a work-oriented option, it's going to be $1100. On the other hand, it'll reach $2000 for a high-performant variant suitable more for gaming.
Just like many other laptops in this segment, it does. However, one can minimize this problem by sticking to short sessions. Additionally, a user shouldn't forget about its small size, which decreases airflow inside.
Yes, it's possible. This feature makes this model unique in comparison to other rivals on the market. The standard 16GB can be easily expanded to 32GB. It's especially useful for people buying this rig with a future-upgrade potential.
The Review
Gaming Laptop ASUS ROG Zephyrus G14
PROS
Rarely seen but great AMD + NVIDIA blending
Stays up longer than any other average contenders
Capable and overwhelmingly fast SSD
Vivid 120Hz display
Loud enough speakers with many presets
Unusual, attractive white design
CONS
The absence of a webcam
Serviceable keyboard and touchpad
Color-restricted keyboard backlighting
Top specs edition may seem pricey
Review Breakdown
CPU: AMD Ryzen 9 4900HS

0

RAM: 16GB (upgradable up to 32GB)

0

GPU: NVIDIA GeForce RTX 2060

0

Display: 14-inch 1440 IPS, 60Hz

0

Connectivity: Wi-Fi 6, Bluetooth 5.0

0

Memory Size: 1TB SSD

0

Weight: 3.75 lbs

0
Gaming Laptop ASUS ROG Zephyrus G14
Gaming Laptop ASUS ROG Zephyrus G14 - long-lasting battery life combined with performance capable of running all PC games. The ROG brand is a budget-friendly
Product SKU: G14
Product Brand: ASUS ROG
Product Currency: $
Product Price: 1397
Price Valid Until: 2023-04-30
Product In-Stock: InStock