Gaming Laptop Acer Predator Helios 300 –  do you want to have a proper item to play modern games? Then this inexpensive gaming laptop is an ideal choice. It has a couple of noticeable flaws concerning speakers and a cooler. Nevertheless, we strongly recommend that you consider this product by Acer. Read about it in our review below.
Advantages:
Suitable for a strapped budget
Has a long-standing battery
Shows solid gaming performance
Demonstrates a refresh rate of 144 Hertz
Disadvantages:
Weak cooling system
Heats up quickly
Quiet sound
This gaming device is, by all means, a budget item. There are several drawbacks to it that are hard to ignore. That's one way to cut the price when designing a laptop. It's a common practice for computer manufacturers. If you're seeking a flawless machine, be ready to pay accordingly.
However, we would give this model a high rating in this class of products. It is an efficient and productive laptop compared to analogies in the category. It can handle extremely demanding games.
Well, some of them would be better off in medium graphic settings. But you still can enjoy the games. A 144HZ monitor isn't a common thing to see among such laptops. In addition, it has a 1080p resolution and a life-like range of colors.
Would you be able to find something better than that? Absolutely, if you're willing to pay more. However, your budget is probably limited. Then it'll be difficult to get a better item for such a price.
Specifications
Below you'll find the configuration of this model – Acer Predator Helios 300:
| | |
| --- | --- |
| CPU: | Intel Core i7-8750H 2.2GHz (6-core, up to 4.1GHz, 9MB cache) |
| RAM: | 16GB DDR4 (2666 MHz) |
| GPU: | Intel UHD Graphics 630 | Nvidia GeForce GTX 1060 (6GB GDDR5) |
| Camera: | HD webcam (1280 x 720) with 2 microphones |
| Display: | 15.6-inch FHD (1920 x 1080) |
| Connectivity: | Intel 802.11ac Wi-Fi | Bluetooth |
| Memory Size: | 256GB PCIe SSD |
| Weight: | 5.9 lbs |
Central processing unit: Intel Core i7-8750H 2.2GHz (6-core, up to 4.1GHz, 9MB cache) provides processing power on a high level
Random-accessing memory: 16GB DDR4 (2666 MHz) gives more than enough space for storing and accessing data
Graphics card: Intel UHD Graphics 630 | Nvidia GeForce GTX 1060 (6GB GDDR5) makes the visual experience truly enjoyable
Internal memory: 256GB PCIe SSD stores and retrieves data
Monitor: 15.6-inch FHD (1920 x 1080) ComfyView IPS (144Hz) represents realistic depiction
Connectivity: Intel 802.11ac Wi-Fi | Bluetooth allows comfortable Internet connection
Ports: 1x USB-C 3.1, x2 USB 2.0, x1 USB 3.0, HDMI 2.0, SD card reader, RJ-45 Ethernet, 3.5mm headphone jack let you plug in all types of devices
Camera: HD webcam (1280 x 720) with 2 microphones guarantees proper video calls
Size: 391 x 267 x 28 mm (W x H x H) allows to save space at home
Weight: 2.7 kg makes it easy to travel with it
Price options
We will begin with the basic configuration. It contains an Nvidia GeForce GTX 1060 graphics card (6GB GDDR5), as much as a 2.8GHz quad-core Intel Core i7-7700HQ processor. You also get 8GB of RAM and an option to choose between a 256GB SSD and a 1TB hard drive. The version costs $1,399.
Be aware that not every store provides this configuration. Sometimes it's just an Nvidia GeForce GTX 1050 Ti providing 4GB of video memory. Then there goes a 2.5GHz Intel Core i5-7300HQ and a 128GB SSD. Plus you get a hard drive with 1TB of memory.
The most expensive configuration contains a 2.2GHz Intel Core i7-8750H CPU. It also has a 1060 graphics card, as much as 16GB of RAM. You also get a 128GB SSD and a hard drive with 1TB. This flagship version has a price of $1,579.
It's up to you to decide which one is the optimal one. It fully depends on your preferences. The laptop meets the top specifications allowing to play really demanding types of games. But there is a minor flaw. The SSD memory of 56GB won't let you install a lot of modern games. Three at max. However, by paying an additional sum of $200 it's possible to expand the machine's capability. Therefore, you might consider buying extra memory as well.
Design
This model is a nice example of a properly designed laptop for games. Standard and classic features fit right in.
It'll likely suit gamers' preferences with its geometry, tapers, and angles on a metal chassis. Stylish black and red tones add to an overall aesthetic. The lid is covered with a modern silver Predator logo. Two removable compartments serve for RAM and a hard drive. They are put on the bottom made of plastic. Upgrading is an option here as well.
Another good aspect is the number of ports. One for headphones, two USB 2.0, USB 3.0, and USB 3.1. In addition, it's equipped with Ethernet, an HDMI port, and, finally, an SD card reader. If you plan to use your camera, this will certainly be helpful.
As for the size, the laptop has average proportions and doesn't take too much space. At the same time, it's not miniature. It comes unexpectedly light, especially the version without a hard drive. Otherwise, it'd be heavier.
All in all, the design expresses the way this gaming tool performs in general. It's not a top item and has several flaws. However, the machine makes a positive impression in other aspects. There you'll hardly find a reason to complain.
Touchpad and keyboard
We truly enjoy using this keyboard. It is ergonomic, pleasant to touch, convenient, and has a matte finish. You can feel deep stroke, proper bounce, and no slipping fingers. Overall, it's just comfortable and responsive. After examining and testing the keyboard we didn't find any serious failures. Nothing will prevent you from focusing on the gaming process when using this device.
There are additional functions to use with the help of shortcut keys or other tools. For example, switching on and off the touchpad, setting up the volume, and switching display options.
The only drawback we managed to find is the key positioning. We noticed that the lower ones are, actually, higher compared to the others. The Up key is easy to miss while playing since the Down key is higher.
The touchpad is completely another story. We definitely wouldn't recommend it for gaming purposes. It is suitable for work and other similar tasks, but that's it. This is a common thing to deal with among gaming laptop touchpads. If you need a high level of responsiveness and precise moves, then use a mouse.
Also, the touchpad is a bit stiff to press. In addition, we noticed that plugging a mouse makes the touchpad unstable and non-responsive. Normally, you can solve the problem by rebooting the laptop or unplugging the mouse.
Screen and speakers
The principal theme of this Acer product keeps showing up. The camera quality and sound performance are not at their best. Let's put it this way: there's still room for development and improvement. At the same time, the full HD display provides surprisingly high quality. You don't expect such supremacy from this class of devices.
It would be better off without bulky one-inch wide bezels. The bright side is the screen with the 1080p resolution. It provides a realistic color gamut, nice hues, and a good-looking overall image depiction. A 144Hz refresh rate of the display is outstanding for gaming machines from the budget category.
We consider it a serious betterment of the previous 2017 version. Now it's less blurry and minimizes dropped fragments, bringing them back to the screen.
The camera performs pretty well. The resolution of 720p gives a grainy picture but is suitable for getting a video call.
The speaker set is a particular drawback of the device. A quality sound is mediocre, not to say worse. The treble gets cut off way too early, while the bass level is fairly low. All that leads to a dull, depth-lacking, and baffling sound.
The low sound quality might come unnoticeable while you play games. At least, if you don't try to listen closely. Anyway, it is easy to solve by plugging in the headphones. It becomes an issue when you decide to watch a movie or enjoy the music. Then the sound reveals itself as flat and hollow. Modifying the equalizer won't be of great help either.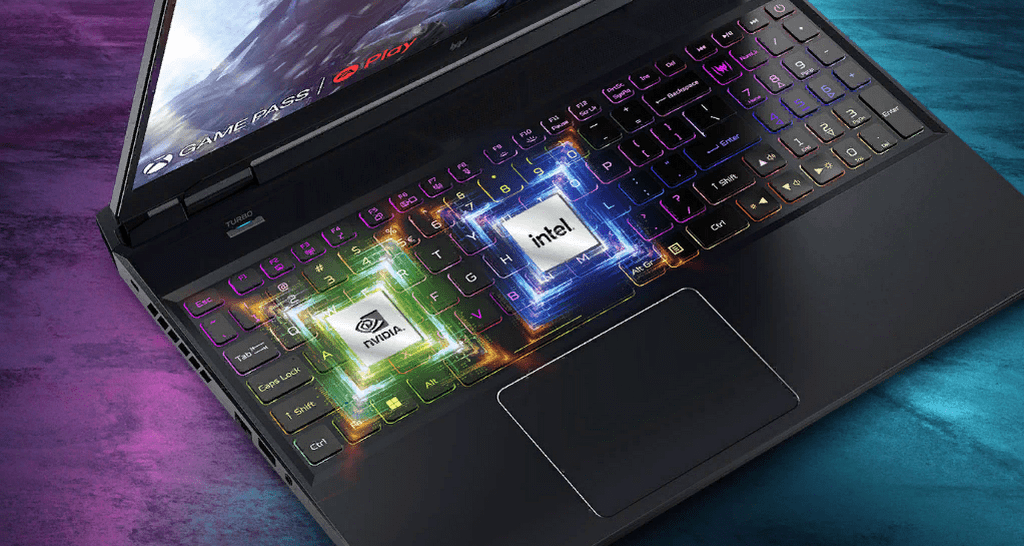 A graphics card is clearly an advantage in this gadget. A proper hard drive along with a 6-core processor add to the overall technical performance. Finally, 16GB of RAM is certainly more than needed nowadays for decent gaming. Altogether, these characteristics result in a really incredible gaming laptop.
Testing the laptop Acer Predator Helios 300
The device has gone through serious tests on our side:
Cinebench CPU: 937 points | Graphics: 106 FPS
3DMark: Sky Diver: 24345 | Fire Strike: 10160 | Time Spy: 3793
GeekBench: 4963 (Single Core) | 19234 (Multi-core)
Battery life (Video Test): 2 hours and 48 minutes
PCMark 8 (Battery): 2 hours and 9 minutes
PCMark 8 (Home Test): 3804 points
Middle Earth: Shadow of War (1080p, Ultra): 55 fps; (1080p, Low): 116 fps
Total War: Warhammer II (1080p, Ultra): 47 fps; (1080p; Low): 100 fps
Of course, you may find better gaming portable devices in stores now. Nevertheless, it's not far from the top products on the market. The laptop's performance is fairly good. In order to have 60 FPS, you simply switch from Ultra to higher graphic settings. This works perfectly for games with demands of a higher level. You can still enjoy smooth gaming, but with less than 60 FPS.
However, the laptop doesn't have dropped frames and we haven't experienced lapses. The performance is impeccable, smooth, and highly responsive. On the graphics side, it's sharp and clean. Predator Helios 300 has gone through several high-quality games while being tested. That is to say, this product proved its supremacy. It is sure to handle the most challenging tasks.
Battery performance
The battery works just as we expect from a gadget of this rank. You'll be able to watch an entire movie at the brightness of 50%. Even after that, there will still be about an hour left for other videos. This is a relatively good result, compared to other devices in the category.
It is certainly less than what an average ultrabook would show. After all, this model is not about a long-standing battery. So make sure you've got your charger with you when going out.
Cooling system
One of the noticeable downsides is the work of the cooling system. Overheating is a real thing here. The fans don't work well enough which causes a lack of thermal regulation. That causes defects in the principal parts of the computer system, such as GPU and CPU.
And this is how we get dropped frame rates and faltering. There is a solution to this problem, though. Our recommendation is to use CoolBoost and put the fan at max. It resolves the issue.
The given difficulty is, undoubtedly, one of the major weaknesses of the gadget. On the market, the cooling system has been positioned as a strong side. However, we witness completely the opposite.
The dual airflow structure doesn't perform too well. Thermal suppression is inevitable once you run a demanding game in an automatic fan mode. In addition, the device becomes physically overheated which lowers your comfort significantly.
Nevertheless, built-in software is of great help here. You can turn on CoolBoost and also put the fan at maximum settings. These two things prevent stuttering of the system. Frame dropouts are not a problem anymore either. The fans might be noisy and disturbing, though. In addition, the device remains pretty hot anyway.
With the overall performance of this laptop, no wonder it produces so much heat. Honestly, we suspect that Acer doesn't plan to raise the price for all this productivity. The company simply compensates for it with coolers. This is a significant drawback of the laptop.
Final opinion
To sum up our review: this laptop is a powerful tool from the budget class. Of course, in order to cut corners, Acer chose several aspects to compromise. The thermal regulation system is one of them, it doesn't provide decent thermal balance.
Another aspect is the sound quality which comes short of satisfaction as well. But even with these two obvious flaws, we wouldn't recommend crossing it out right away. Buy proper headphones and use some additional cooling for this device.
Most importantly, the gadget is able to deal with the most challenging games. Even if you select the Ultra option in settings. In addition, it has an outstanding 144HZ refresh rate. That's not common for this price category and allows to enjoy truly beautiful image depiction.
This model is an ideal choice for those who look for a proper gaming tool. Besides, the price is reasonable for the laptop with the given characteristics.
Overall Verdict

: score of 

8.1
The device has two serious flaws concerning the cooler system and dynamics. But still, it performs fairly well in highly challenging games. In case you're financially limited, it might be your option to consider.
Video-review on Acer Predator Helios 300: A Cheap Gaming Laptop with a GTX 1060
FAQ About Acer Predator Helios 300
The device is made especially for gaming purposes. All the components serve to improve this aspect. So don't be afraid to launch the most demanding ones on this laptop. However, sometimes you might need to go to settings and switch them. It'll help to maintain a comfortable playing mode.
Unfortunately, this Acer product didn't manage to become a flawless one. Overheating is a real issue here. There are ways to deal with the problem, though. Firstly, set the fan at maximum settings. Secondly, turn on a built-in software called CoolBoost to minimize thermal suppression.
A powerful laptop is a necessity when it comes to programming. A lot of storage and high speed are extremely important for a software developer. This model provides it all. It has the quad-core Intel Core i7 processor and 8-16GB of RAM (choose your configuration). So it's more than suitable for coding.
With all types of games that we have nowadays 8GB of RAM is beyond the needs. This amount of memory allows you to experience really challenging gaming industry products. It's one of the best gaming platforms in the budget category.
The device has from 8 to 16GB of random-access memory, depending on the configuration. This is absolutely more than enough for different purposes. Working tasks, running games, and software development are all a piece of cake for this laptop.
The Review
Gaming Laptop Acer Predator Helios 300
PROS
Suitable for a strapped budget
Has a long-standing battery
Shows solid gaming performance
Demonstrates a refresh rate of 144 Hertz
CONS
Weak cooling system
Heats up quickly
Quiet sound
Review Breakdown
CPU: Intel Core i7-8750H 2.2GHz

0

RAM: 16GB DDR4

0

GPU: Intel UHD Graphics 630 | Nvidia GeForce GTX 1060

0

Display: 15.6-inch FHD

0

Connectivity: Intel 802.11ac Wi-Fi | Bluetooth

0

Memory Size: 256GB PCIe SSD

0

Weight: 5.9 lbs

0

Camera: HD webcam (1280 x 720)

0
Gaming Laptop Acer Predator Helios 300
Gaming Laptop Acer Predator Helios 300 Review - It is an efficient and productive laptop compared to analogies in the gaming category. It can handle extremely demanding PC games
Product SKU: APH300
Product Brand: Acer
Product Currency: $
Product Price: 1349
Price Valid Until: 2023-04-20
Product In-Stock: InStock