Nvidia GeForce RTX 3080 Ti – This is a very long-awaited graphics card that was finally presented in June 2022. Its release date was postponed several times. So the interest in the device and its opportunities was spiking. The vibe about it was also heated by rumors. Namely, everyone talked about a special restriction to make it more available for gamers. And it turned out to be the truth.
Benefits:
Efficient cooling system
Stylish design
Metal-based construction
Great performance features
Ampere architecture
12 GB of VRAM
Restriction for miners
Disadvantages:
The high price because of the shortage of high-quality video cards
There is a special limitation algorithm for Ethereum miners. This and other important information are covered in detail in this article. We'd compare this model with its closest rivals. Namely, pure RTX 3080 and 3090 of the Palit or Founders Edition versions. Sometimes, we'll bring up the Radeon 6900 XT to make the comparison more interesting. Just scroll down and enjoy a technical-driven review.
NVIDIA GeForce RTX 3080 Ti 12GB GDDR6X PCI Express 4.0 Graphics Card – Overview
The model comes in various designs, depending on the manufacturing agent. There is an interesting Game Rouge version by Palit. These manufacturers were creative in the context of the outlook. The upper surface is covered with what looks like rock crystal. It's not impressive when the device is switched off (unless you like this kind of style).
But if you turn it on, it starts to shine with all colors. Just as if there was a rainbow beneath the crystal panel. If you place it in the transparent PC case, it'll be glowing all around. It's a stylish touch that can be rarely seen in other gaming gear options.
The Founders Edition version is more moderate and reserved in its style. It has a black body, encased with a silver line on the front panel. The line forms a symbol of infinity or a sand-glass, depending on what angle you look at. In any case, it's profound and elegant.
The sizes don't differ from the 3080 model. It's small and compact: 285x112x40 mm. However, it's tiny compared to 3090 which has 336x140x61 mm and weighs 4.84 pounds.
From The Inside
The card has 12-pin connectors, with the electricity usage being able to reach 350W. The back panel is made of solid metal. It's then followed by a thermal gasket. It takes away the heat from where memory is located. These areas also have a separate set of thinner gaskets. All heat (including from DrMOS and other places) is removed from the metal structure. Nevertheless, there is direct contact with the radiator.
There are 20 power supply lines. 17 go to the GPU and 3 are designed for the memory. The technological marvel has a non-standard supply circuit arrangement that reminds us of the 3090 model. The card itself looks identical but has twice as less memory. It means that each channel gets fewer modules. The 102-225 chip has 2 SM blocks less. Other differences are insignificant. This option can boast about 12 GB of RAM – it's enough for gaming needs.
The Founders Edition version has the same thermal design parameters as the 3090 devices. It reaches only 350W, but as you'll see, the model's cooling system is more than enough to deal with it.
Nvidia GeForce RTX 3080 Ti Desktop Specs
These are the basic characteristics of RTX 3080 Ti:
| | |
| --- | --- |
| NVIDIA Architecture: | Ampere |
| GPU Name: | GA102 |
| NVIDIA Encoder: | 7th Generation |
| NVIDIA Decoder: | 5th Generation |
| Memory Interface Width: | 384-bit |
| Memory Size: | 12 GB |
| Memory Type: | GDDR6X (384-bit) |
| Stream processors: | 10240 |
| Texture units: | 320 |
| ROP Units: | 112 |
| Base Clock/Boost Clock: | 1365/1665 MHz |
| CUDA Capability: | 8.6 |
| HDCP: | 2.3 |
| Maximum GPU Temperature (in C): | 93 |
| TDP: | 350 W |
| Required System Power: | 750 W |
The graphics card has an advanced Ampere architecture and a renewed processor. Raytracing cores are of the second generation, while tensor cores are of the third one.
Some people mix the tasks of these 2 core types. RT ones are responsible for ray tracing in video games. They look like special modules that speed up the crossing of rays through triangular pieces. Additionally, they calculate how to bypass the hierarchy of limited volumes.
Tensor cores are designed to facilitate the work of artificial intelligence. It is used in DLSS, Video Broadcast, and other features. Tensor cores are Nvidia's key stack elements for the data center. It includes software and hardware, networks, libraries, optimized apps, and AI modules from the NGC catalog.
The card's performance is measured in teraflops (tera floating-point operations per second). The higher it is, the more technologically advanced the device is.
3080 Ti has the following stats:
34 TFLOPS for CUDA
67 TFLOPS for RT
273 TFLOPS for tensor cores
It's more than in its younger brothers – 3080 or 2080 TI.
DLSS is a cool technology by Nvidia. If you turn it on while playing, you'll double your FPS. It significantly influences the quality of the picture. All thanks to a new type of rendering from Nvidia. Do you have a game and a card that both support such an opportunity? Then it's better to use it to your advantage.
Additionally, Windows 10 has a new feature. It allows the gadget to communicate with its memory directly. Besides, there is a special gaming mode that most gamers have been waiting for. The system won't bother a user when it's time to download or install an upgrade.
Previously, it would collapse the game into a window. It usually happened at the most important moments, which irritated most people. If you turn this mode on, nothing would distract you.
Protection From Miners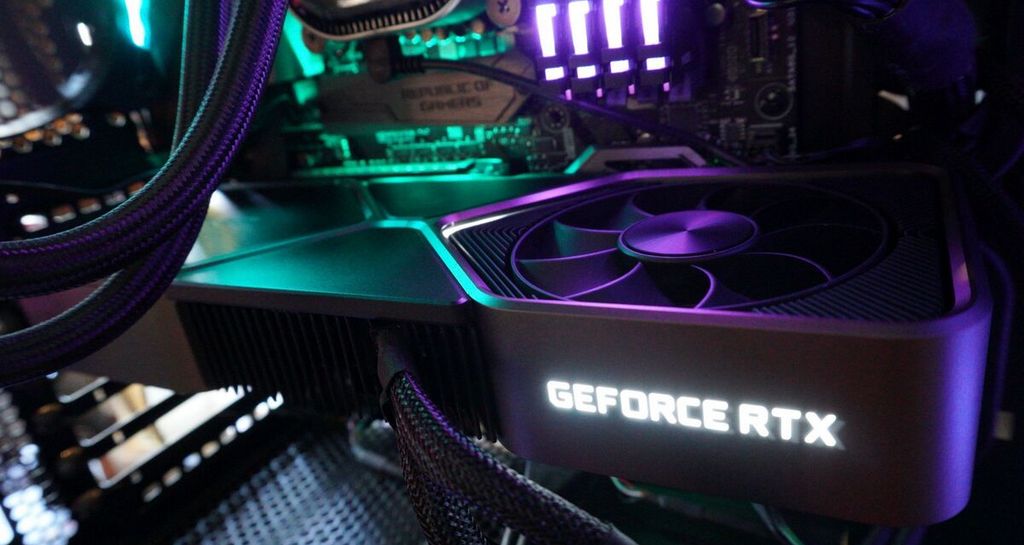 Is it true that miners won't be able to fully enjoy the new card? There were lots of rumors and discussions on different forums. Besides, the manufacturers themselves made releases, promising to limit their capabilities for mining. And it turns out that the restrictions indeed work, probably on both software and hardware levels.
The mining performance is measured in mega hashes. 3090 has 120 mh/s, 3080 – 100 mh/s. 3080 TI is something in between, so it should have about 115 mh/s. But if you use this card to mine Ethereum, you'll be very disappointed. The performance reaches only 50 mh/s! In this case, the pay-off period becomes way longer – about 2 years.
Some don't see it as a problem: you can always switch to a different cryptocurrency. But Ethereum is one of the most popular and profitable ones. In theory, such limitations can have a positive effect on the cost of this device. At least unless hackers find ways to bypass this restriction.
Test Result
We'll analyze the way the card performs in an AAA RPG Cyberpunk 2077.
4K without RT and average settings show moderate results. The energy consumption reaches 400W as stated in the specifications. The performance is a little bit higher than in the 3090 model. A device by Founders Editions is likely to have similar stats. 3080 TI has 66 frames per second, while 3080 has only 56.
4K with RT and DLlSS with the same average settings confirms the mentioned above fact. 3080 TI is more powerful than the pure 3080 (88 FPS vs 75 FPS).
If we lower the resolution to QHD and increase the settings, the results are great. 3080 TI is the leader compared to other models. It has 99 FPS. A bit more than 3080 (86 FPS), 3090 (95 FPS), and Radeon 6900 XT (94 FPS). All in all, TI is about 15% faster there.
Let's try to make it harder for all models: QHD+RT+DLSS and the highest settings. TI still manages to impress us with its 93 FPS. 3080 has 81 FPS, while 3090 shows 89 FPS.
It's also vital to test the device's performance in apps used for work.
The program 3DS MAX with the V-Ray Visualizer is a great choice to challenge video cards. We had to increase the size of textures to load the huge memory capabilities. The 3090 model is a bit better than other devices. GPU performance plays the most important role. The fewer minutes one needs to complete the test, the better it is. 3080 TI required 8.16 min, while 3080 9.14 min and 3090 – 8.08 min.
We also used Blender, setting large 512×512 tiles to make the test harder. 3090 and 3080 TI have a difference of 1 second (1.44 vs 1.45 min). While 3080 – 2.08 min. We can be confident that the first 2 devices are identical in this regard. One can write off 5 seconds as an error.
Engineering software Compass 3D is used to evaluate the models in the ViewPort mode. The more points, the better. All participants have similar results – about 300.
And the last program is PugetBench for DaVinci Resolve. This project is loaded with GPU plugins. The final rendering is the most interesting indicator. The fewer minutes, the better. 3080 needed 10.07 min. 3080 TI did much better – 8.34 min, while 3090 shows 8.21, almost the same.
Nvidia GeForce RTX 3080 Ti – Temperature And Noise
When working with applications that don't load the card heavily, the fans don't intervene. Watching videos in the browser or on YouTube doesn't lead to temperature spikes. It's no higher than 60 degrees. For daily tasks, the acoustic features are comfortable. However, it becomes louder when the fans are at their maximum – about 50 decibels. It's normal for a device that has 3 key cooling components.
It gets hotter when you turn on a video game. In the auto mode with 4K and RT switched on (without DLSS), the VRAM is about 76 degrees. The difference between the chip and the hot spot is about 10 degrees. Fans speed up to 1974 rotations per minute. At the maximum, they'll reach 3000 RPM, so there is lots of power in reserve.
Let's analyze the same areas with the game at its maximum settings. The VRAM cools down to 68 degrees. At the same time, the hot spot goes down to 71. The chip – to 63 degrees.
The most heat is reached while mining, not while gaming. VRAM shows about 84 degrees. It's not critical, though, because it doesn't get higher than 100 degrees. Again, the hash rate is low – about 56 m/hs in the auto mode. It's 67 m/hs in the optimized mode. This is most likely the reason why the temperature is within its normal range. Does it make 3080 TI less beneficial for mining? It definitely does, with Nvidia GeForce RTX 3060 and 3070 still in the market.
And the most interesting issue concerns the balance between hash rate limitations and overall performance. Won't the latter become worse because of the in-built restrictions? Judging by numerous tests and Nvidia releases, it doesn't influence the performance in the slightest.
Summing Up
3080 Ti is a powerful device that will replace its previous version. It's definitely more competitive than RTX 3080 and can even challenge the 3090 model. Some experts predict that it can be more popular than 3090 due to its price. The latter is more expensive and only 15-17% more efficient according to different tests.
If you're choosing between these 2 models, it's worth considering 3080 Ti. But it depends on the price of the device in your region. 3090 has huge memory capabilities – 24 GB. It's hard to find a task where such an amount would be useful. But the technology is developing very fast. Next-generation games will surely become more demanding.
3080 TI will definitely be less popular for miners due to low hash rate indicators. It's good news for gamers: it'll be easier for them to purchase the gadget. Buy it if you're choosing your first gaming gear or want to renew the old one.
Video-review on g

aming graphics card Nvidia GeForce RTX 3080 Ti
FAQ About Nvidia GeForce RTX 3080 TI
The Review
Gaming Graphics Card Nvidia GeForce RTX 3080 Ti
PROS
Efficient cooling system
Stylish design
Metal-based construction
Great performance features
Ampere architecture
12 GB of VRAM
Restriction for miners
CONS
The high price because of the shortage of high-quality video cards
Review Breakdown
Stream processors: 10240

0

Texture units: 320

0

ROP Units: 112

0

Base clock: 1.365 MHz

0

Boost clock: 1.665 MHz

0

Video memory: 12 GB GDDR6X

0

Memory speed: 19 Gbps

0

Power connectors: 2x PCIe 8-pin (adapter to 1x 12-pin included)

0
Gaming Graphics Card Nvidia GeForce RTX 3080 Ti
Nvidia GeForce RTX 3080 Ti review: this is a powerful gaming graphics card. It's definitely more competitive than RTX 3080 and can even challenge the 3090 model
Product SKU: RTX 3080 Ti
Product Brand: Nvidia
Product Currency: $
Product Price: 1,999.99
Price Valid Until: 2023-05-08
Product In-Stock: InStock