AMD Radeon RX 6900 XT review – in 2021 AMD came up with a decent response to Nvidia Ampere GPUs. It presented new high-quality AMD models with RDNA2 architecture as a base. Previously, we explored the RX 6800 XT, as much as the RX 6800. Today we'll examine a more recent item, the RX 6900 XT.
The current situation in the industry contributes to it. Now that the times of deficit are over, older GPUs start returning to the market. Here we are going to review the top version of the card from PowerColor. This is a combination of an efficient cooling system, improved frequency, and superior performance.
First of all, we'll recap the graphics card's key characteristics. It's a senior version built on the Navi 21 GPU. Inside you will find 80 compute units. It manages 5,120 stream processors. Also, 320 tensor cores and 128 units with render output function are under its operation. 80 powerful ray accelerators boost hardware for ray tracing processes.
The graphics card's operating frequencies are identical to the ones of AMD Radeon RX 6800 XT. You can select from two claimed options to increase frequencies. Game Clock with a frequency of 2015 MHz is the first one.
The second option is 2250 MHz provided by Boost Clock. The processor contains a vast Infinity Cache. It's a 128 MB on-die L3 cache. 16 GB of GDDR6 are packed in the video buffer. It provides a 16 GHz frequency with a 256-bit bus.
A huge advantage of the graphics card's top version is 300W of power. It's the same as in the RX 6800 XT. Conducted tests also show us how economical this graphics card is compared to Nvidia's older products.
AMD Radeon RX 6900 XT Ultimate PC Gaming Graphics Card
We have the PC gaming graphics card with 16GB of GDDR6 memory (AXRX 6900XTU 16GBD6-3DHE/OC). It represents the supreme Red Devil series. The word Ultimate in the name promises supreme performance and really efficient overclocking.
The item is packed in a massive box with lots of different accessories. There is an envelope with detailed instructions and item graphics cards with a QR code. It allows you to register and take part in the contest. For this, you need to send your best photo with the device. Also, there's an adapter that connects the motherboard to the backlight.
To our satisfaction, the manufacturer provided support for this heavy item. In addition, there are provisions for various configurations. You might need an adjustable type of support inside a standard case. Which means you're able to choose a position for the support foot. And that's what you have in this package. Also, there will be a second unit to increase the supporting construction.
What do we see? A big, 32cm long PC gaming graphics card. Such length has become normal for Nvidia and AMD top solutions. It weighs 1.6 kg, and it's not a lot compared to GeForce RTX graphics cards. The last ones can go up to 1.9 kg. It is also 62 mm thick and occupies 3 slots.
Metal casing equipped with 3 fans covers the heavy radiator. A backplate is located on the backside. Also, there you can see a Red Devil logo with stylish illumination. There's no board on the side because it decreases resistance to airflow in the case. Only slots are located there. Three 8-pin connectors serve to plug in a power cable.
In the opposite corner is a BIOS switch. The graphics card has 2 firmware units of different frequencies and fan speeds. They are OC and Silent modes. We'll consider OC mode the main one since it's on by default.
With a voluminous radiator, the fan set appears solid. Even if you look from the side.
Of course, the card has RGB backlighting. It's a must for a top product. The illuminated logo and back inserts merge into spectacular red lighting inside the case.
You can experiment with the glow mode by using the app called Devil Zone RGB. There's also an option to synchronize the backlight with the motherboard by connecting a cable.
Let's move to a port selection. We have 3 DisplayPorts and an HDMI output on the back panel. They all have extra backlighting. It essentially simplifies the process when you need to connect the cable under the table.
All elements work from the same heat sink. Big contact pads ensure contact with power circuit chokes and transistors. The massive foundation reduces the heat produced by memory chips and the graphics card itself. We'd like to emphasize the high quality of manufacture, flat surface, and neat pads.
There are 5 heat pipes that serve to distribute heat towards 2 plate sections. A thin frame with 3 fans on it is located on the radiator.
Side fans have impellers of almost 100mm and the middle fan is close to 90mm. Their big blades stand out in terms of design, but the rest is pretty typical. The engineers took the basic design as a reference point and enhanced the power system. The standard model operates 16 power phases, the upgraded one has 19 (16 per GPU).
The processor manages 5,120 stream processors which guarantee maximum capacity. Memory chips by Samsung with solder balls (K4ZAF325BM-HC16) provide 16GB of the video buffer.
The given graphics card functions at high frequencies. The base of 1825 MHz is enhanced to 2050 MHz. It also operates at 2235 MHz (instead of 2015 MHz) once you activate Game Clock. Finally, Boost Clock was raised from 2250 to 2425 MHz. Files transfer frequency of the GDDR6 equals 16000 MHz, which is a standard level.
These characteristics very well correspond to the OC mode. 2600 MHz is the highest Boost point. In reality, game frequencies normally range from 2350 to 2420 MHz. We tested the device with 3DMark Time Spy. It warmed up to 73℃ (163℉) and fans accelerated to 1870 rpm. Playing Godfall with tracing heated the item up to 74℃ (165℉). The fan speed showed 1800 rpm. We had the case open during testing and the room temperature was 26°C (79℉).
This is a great result in temperature-noise testing for a high-end GPU with factory overclocking. It's especially impressive in contrast with the RTX 3080 Ti's work. Nevertheless, our graphics card's temperature is 20°C (68℉) higher on the hottest Hot Spot on the crystal.
The Game Clock can be lowered to 2135 MHz by selecting Silent firmware. Boost Clock falls to 2335 MHz. The fan speed reduces to 1560 RPM in the 3DMark Time Spy test. At the same time, the temperature gets one degree higher. Frequency dynamics don't change seriously, it gets lower by 1.7%, according to the test.
The graphics card's initial frequencies are the same as those of the boosted RX 6800 XT. Extra overclocking brings even more capability. It's possible to achieve by using software tools only. You can find them in the graphics card's settings menu by opening the standard software suite.
Here we get the basic frequency of 2120 MHz by Game Clock. Meanwhile, Boost raises it to 2680 MHz. It wasn't possible to increase the memory frequency higher than 2180 (17440) MHz. Otherwise, it would cause rare image artifacts or lower results. In fact, such behavior is typical. Some RX 6800 series graphics cards give an unstable reaction to 17600 MHz frequencies. Here we have a faster cooling system and Power Limit raised to the max.
Other than that, the Average Boost increased to 2440-2500 MHz in games. The fan speed didn't go higher than 2800 rpm with the GPU heated to 75°C (167℉).
Higher frequencies cause a huge increase in heat dissipation. If you want to keep acoustic comfort, be careful when choosing a frequency configuration. The one that increases the factory settings just a little bit is the best.
The Tested PC Graphics Cards Characteristics
We tested the PowerColor video card both in the OC mode (factory settings) and overclocked. Also, we conducted tests with frequency lowered to regular values. It helps to evaluate the initial advantage of the video card. So we switched to settings with standard Boost frequencies of around 2300 MHz. It is approximately the same as the reference cards' values.
Further, we compare our video card with 6800 XT and RTX 3090. Their companion in the table is RTX 3080 Ti. Besides, we took RTX 3080 Ti as a representative on behalf of Nvidia. We consider this model closer to the review flagship in terms of price.
| Video card | PowerColor Red Devil Radeon RX 6900 XT | Radeon RX 6900 XT | Radeon RX 6800 XT | GeForce RTX 3090 | GeForce RTX 3080 Ti |
| --- | --- | --- | --- | --- | --- |
| Core | Navi 21 | Navi 21 | Navi 21 | GA102 | GA102 |
| Transistors, mil | 26800 | 26800 | 26800 | 28000 | 28000 |
| Process, nm | 7 | 7 | 7 | 8 | 8 |
| Core volume, mm2 | 520 | 520 | 520 | 627 | 627 |
| Stream processors | 5120 | 5120 | 4608 | 10496 | 10240 |
| RT cores | 80 | 80 | 72 | 82 | 80 |
| Tensor cores | 320 | 320 | 288 | 328 | 320 |
| ROPs | 128 | 128 | 128 | 112 | 112 |
| Base frequency, MHz | 2050 | 1825 | 1825 | 1395 | 1365 |
| Game Clock frequency, MHz | 2235 | 2015 | 2015 | - | - |
| Boost frequency, MHz | 2425 | 2250 | 2250 | 1695 | 1665 |
| Memory width, bits | 256 | 256 | 256 | 384 | 384 |
| Memory type | GDDR6 | GDDR6 | GDDR6 | GDDR6X | GDDR6X |
| Memory frequency, MHz | 16000 | 16000 | 16000 | 19500 | 19000 |
| Memory, GB | 16 | 16 | 16 | 24 | 12 |
| Supported DirectX version | 12 Ultimate (12_2) | 12 Ultimate (12_2) | 12 Ultimate (12_2) | 12 Ultimate (12_2) | 12 Ultimate (12_2) |
| Interface | PCI-E 4.0 | PCI-E 4.0 | PCI-E 4.0 | PCI-E 4.0 | PCI-E 4.0 |
| Power, W | 300+ | 300 | 300 | 350 | 350 |
The GeForce columns display the full range of frequencies, starting from base and until peak. The range for Radeon starts from Game Clock and goes up to maximum Boost.
RX 6900 XT Benchmark – Test Stand
The test set configuration is below:
| | |
| --- | --- |
| Central Processing Unit (CPU): | Intel Core i9-9900K |
| Main circuit board: | ASUS ROG Maximus XI Formula |
| Memory: | Kingston HyperX HX434C16FB3K2/32 (DDR4-3466@3600) |
| Coolers: | be quiet! Silent Loop 280mm |
| Solid-state drive: | Kingston SSDNow UV400 480GB |
| Screen: | ASUS PB278Q (2560×1440, 27″) |
| Additional disk 1: | Kingston A2000 NVMe PCIe 1000GB |
| Power connector: | Antec HCG850 Gold |
| Additional disk 2: | Kingston KC2000 NVMe PCIe 1000GB |
| System software: | Windows 10 Pro x64, NVIDIA GeForce driver 466.77, AMD Radeon Adrenalin Edition driver 21.7.1/21.6.1 |
| Case: | Antec NX800 |
We conducted tests at 3840×2160 resolution. The list of test games expanded as we added Godfall.
Performance contest
Here we analyze each item's behavior in computer PC games with various demands.
Assassin's Creed Valhalla
The given device is unbeatable in this game. It shows its best here, leaving the competitors far behind.
Cyberpunk 2077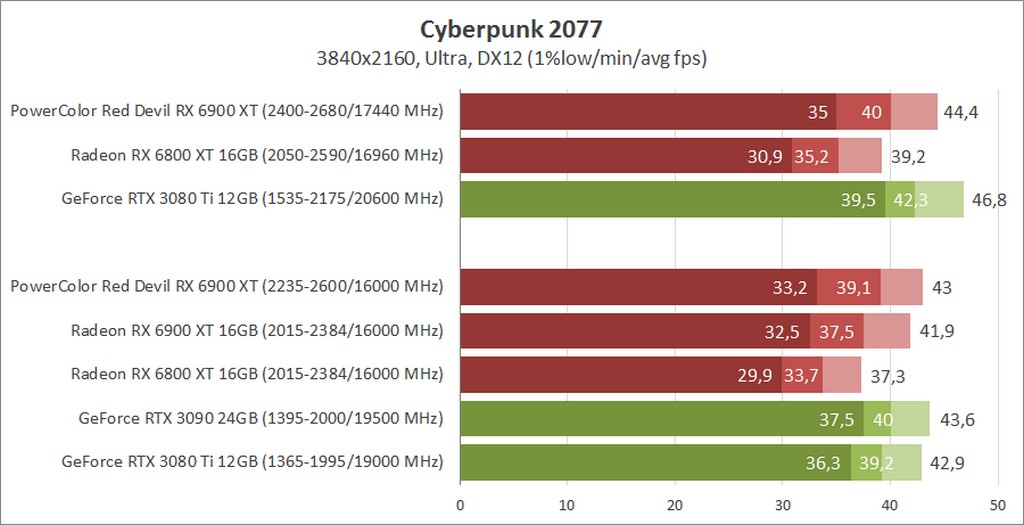 The base version of 6900 XT provides 13% better achievements than RX 6800 XT. Meanwhile, RTX 3080 Ti is one step behind. But it's just one aspect. PowerColor is only inferior in terms of overclocking. But in general, performances aren't at an acceptable level. So make sure you reduce graphics settings for 4K when using AMD PC gaming graphics cards.
Days Gone
GPUs from the green camp deliver the most impressive refresh rate here.
Godfall
With ray tracing in progress, 6900 XT performs worse than the 3080 Ti model. The upgraded version of Radeon provides higher frequencies and wins.
We also tested the PC gaming graphics cards at Ultra settings with the enabled AMD FSR feature. Due to that, 6900 XT (base version) overtook the RTX 3080 Ti. The initial frequencies of Red Devil are 5% higher than those of its competitors. After overclocking the gap increases.
Horizon Zero Dawn
Here PowerColor performs 4% better than 6900 XT. At the same time, the PC gaming graphics card is neck-and-neck with the 3080 Ti model. Overclocking provides a modest improvement of 4%.
Mafia: Definitive Edition
The contestants on the part of Nvidia achieved better results in Mafia. Nevertheless, our PC gaming graphics card's lag isn't crucial. It still allows users to play comfortably at 4K and enjoy the process.
Necromunda: Hired Gun
We used DirectX 11 to test the devices. The reason is that the old API affects the performance positively in this particular case.
RX 6900 XT wins over RX 6800 XT by a significant margin of 17-19%. We assume The Red Devil's newer driver became the reason for such odds. At the same time, the GPU is not on the same level as Nvidia items.
Outriders
And again GeForce RTX is a leader on the board. RX 6900 XT gives proper results but is still worse than the rivals. It's practically on the same level as the 6800 XT model.
Red Dead Redemption 2
There's an 8% difference in AMD reference versions. PowerColor is 12% stronger than RX 6800 XT. And it's ahead of the 6800 XT as well. What's more, overclocking makes it even faster, providing a 5% boost in average fps. Minimum frequencies barely respond to overclocking.
Resident Evil Village
We can see a surprisingly big difference between AMD's products. The latter version is 19% faster by average fps.
There's a 10% gap by minimum refresh rate. The PC gaming graphics card has an advantage in the number of blocks and differences in factual frequencies. So, partially, such acceleration could be due to the new driver. The flagship model certainly beats all Nvidia options. The situation is completely different regarding ray tracing. Here 6900 XT presents itself worse than the 3080 Ti model.
The Witcher 3: Wild Hunt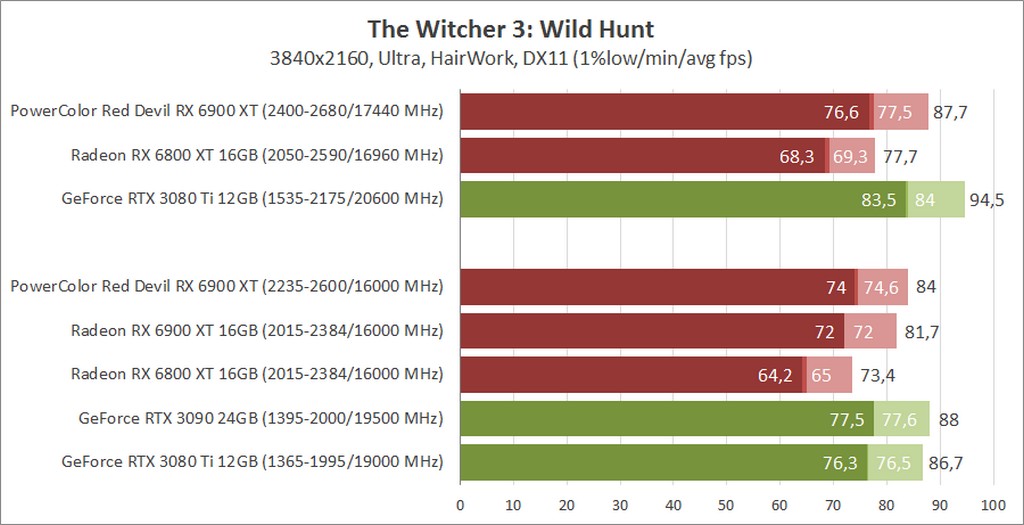 At first, there's a lag on part of the 6900 XT compared to the rivals. But we could only fix it by setting the frequencies at max.
Tom Clancy's Ghost Recon Breakpoint
It hasn't happened before, but AMD gives an unstable and stuttering performance. Consequently, RX 6900 XT is 1% lower than Nvidia items while showing performance privilege. All in all, AMD has by far higher potential. In addition, once we get the driver's update, all issues are going to be fixed.
Tom Clancy's The Division 2
Starting frequencies display some differences between the models. Nvidia solutions are superior to PowerColor in terms of overclocking.
Watch Dogs: Legion
Here we witness how RTX 3090 performs slightly worse than the 3080 Ti model. Meanwhile, the Red Devil is even with the competitor. Extra overclocking helps to speed up by 5%.
3DMark
Thanks to the Time Spy benchmark the hero of our review shows its best.
AMD flagship takes a worse position compared to NVIDIA rivals in the trace test.
AMD Radeon RX 6900 XT Price
You can buy the AMD Radeon RX 6900 XT, powered by AMD RDNA 2 architecture, featuring 80 powerful enhanced Compute Units, 128 MB of all new AMD Infinity Cache and 16GB of dedicated GDDR6 memory Price on Amazon for $1,250.
The PowerColor Red Devil AMD Radeon RX 6900 XT Ultimate can be purchased on Amazon for $1,149.99.
Power Consumption
Further we provide the results of the entire system energy consumption recorded in gaming mode.
PowerColor saves more energy than the Nvidia items at overclocked settings provided by the manufacturer. The PC gaming graphics card is even less power-consuming at lower frequencies. A significant spread between the extreme frequency values indicates their vast influence on energy consumption.
It was due to the characteristics that 3080 Ti did well in this particular case. However, the general trend is obvious. RX 6900 XT is a high-end model with impressive power efficiency.
Summary
First of all, sum up the results in general. RX 6900 XT has an advantage of 10-13% over RX 6800 XT. In certain games, the difference between the video cards is more noticeable. But we were setting 6900 XT at necessary frequencies, rather than comparing honest references.
Read More:
Acer Predator Helios 300 review
In some cases, the competitors showed similar frequencies. And sometimes the RX 6900 XT displayed better Boost. So it's important to remember one thing. The older version's advantage clearly depends on the factory settings in each particular case.
Also, the overclocked 6800 XT is inferior to RX 6900 XT at suggested frequencies. Anyway, the review PC gaming graphics card remains the strongest graphics gas pedal with Navi 21 GPU. Definitely, the 3080 Ti along with the RTX 3090 take leading positions in most tested games.
However, often it's just a minor advantage, that's easily compensated by overclocking. In addition, it costs less. And that's how we get an optimal device in the high-price market sector.
If you're willing to buy a senior AMD GPU, the given PC gaming graphics card is your choice. It successfully combines efficient thermal regulation with proper factory overclocking. From the very beginning, the card gives some additional percent of performance. It makes the model closer to older products by Nvidia.
Meanwhile, the fans provide low-speed and quiet work while maintaining a comfortable temperature level. It's especially important in comparison with such solutions as RTX 3080 Ti. The latter one is noisier, hotter, and less power efficient.
It's always about compromises in the top segment when you need to accept some drawbacks. Noise could be a good example. But with PowerColor, you don't have to deal with such compromises. Even if you're highly considerate about the noise level, there's a simple solution here.
Just enter the second BIOS and switch the PC gaming graphics card to the Silent mode. The GPU is undoubtedly one of the best options in the high-end segment right now. It's a successful combination of great performance, trendy features, and a high potential for extra overclocking.
Video-review on Gaming Video Cards: AMD Radeon RX 6900 XT Review and Benchmarks vs RTX 3090
FAQ About AMD Radeon RX 6900 XT
The PC gaming graphics card provides high-quality performance in most modern games. It also has a high overclocking potential. But if you're a fan of ray tracing, there are more powerful items from Nvidia. So the choice completely depends on your gaming needs and preferences.
The video card is specifically designed for gaming purposes. It has an efficient cooling system and a decent refresh rate in 4K resolution. An important point is that the given GPU also provides well-balanced operating temperatures during game workloads.
Unexpectedly, RX 6900 XT overtakes the Nvidia PC gaming graphics card at 4K. At the same time, it's one step behind at 1440p resolution. So, essentially, these two devices are neck and neck. The choice depends on the kind of characteristics you're interested in.
The video card's recommended price is $1000. But it's highly unlikely you find the device for this money. The thing is that retailers have taken over the market. Recently, GPU price tags have gotten sky-high as the demand has also risen. So prepare $1300-1800 depending on the store.
This is a top-performing PC gaming graphics card suitable for different types of workloads. It's an optimal choice for those looking for a high-end GPU for a reasonable price. However, the item is less powerful than the Nvidia competitors in terms of ray tracing.
The Review
Gaming graphics card AMD Radeon RX 6900 XT
PROS
It's a senior version built on the Navi 21 GPU
The graphics card's operating frequencies are identical to the ones of AMD Radeon RX 6800 XT
A huge advantage of the graphics card's top version is 300W of power
It's a successful combination of great performance, trendy features, and a high potential for extra overclocking
Review Breakdown
Stream processors: 5 120

0

Texture units: 320

0

ROP Units: 128

0

Base clock: 1.825 MHz

0

Boost clock: 2.250 MHz

0

Video memory: 16 GB GDDR6

0

Memory speed: 16 Gbps

0

Power connectors: 2 x 8 - pin

0
Gaming Graphics Card AMD Radeon RX 6900 XT
AMD Radeon RX 6900 XT graphics card review for PC gaming purposes - If you're willing to buy a AMD GPU, the given card is your choice. It combines efficient thermal regulation with proper factory overclocking
Product SKU: RX 6900 XT
Product Brand: AMD
Product Currency: $
Product Price: 1250
Price Valid Until: 2023-05-22
Product In-Stock: InStock